May we have a Moment?
In between building online masterpieces and writing Wordsworthian prose for our clients, we like to flex our creative muscles on some little projects of our own. You may remember the tale of our hack weekend from earlier this year (if you don't, you can read it here). I (Thea) had not yet joined the BLISS ranks but I was soon informed of the ideas that sprang from that weekend. One in particular has stuck with us, inspired us, excited us and made us swear and argue with each other a bit more than usual. Allow us to present Moments.
Ok, first things first, it isn't a box of chocolates.  It's basically a website. But it's also so much more than that.  What we envisage the finished product being able to do is, in a nutshell, pull content from your social media accounts, organise it into a pretty timeline and create you a nice little virtual scrapbook that documents your life during a specified date range.  What a good idea, we thought.  Imagine something that can delve deep into the realms of your online persona and pull out all those photos of you lying on the pavement drunk outside your university halls, dressed as Britney Spears.  Alright, reliving those times isn't the main aim of this project.  But we all came to the general consensus that there isn't an obvious and user-friendly utility that will help you create a detailed snapshot of a period of your life in just a few clicks.
We spent a day or so patting ourselves on the back for this highly original stroke of genius.  In fact, we were still chinking our metaphorical glasses when we got a great big boot up the backside.  The back-patting ceased. The metaphorical champagne flutes metaphorically shattered.  It was like our dream was over before it had even begun when This Happened.
Why bother nurturing our vision, we lamented, when we've been pipped to the post by the latest darling of the App Store.  We now know exactly how Simon Cowell must feel every time Gareth Malone announces mid-November that he's assembling a choir of ordinary people with intriguing back-stories. But this wasn't exactly the race for a festive number one.  Why, we asked ourselves, should we be disheartened by the appearance of an almost identical piece of kit? 
As it turned out, we weren't the only ones jumping on the social media collation bandwagon.  A little bit of online digging soon led us to another couple of our future competitors - Notiss and Hiyalife. The former is more of a functional diary, which, despite having the capability to pull content from social media, seemed to be heading more down the  'Don't forget the mother-in-law's birthday' route by highlighting its potential use as an organisational tool.  
Hiyalife, on the other hand, was pitching at the teen market (who thought up the name? Justin Bieber?) and placed the focus on the sharing aspect; while it too pulls content from Twitter, Facebook et al, it also allows you to upload your own media to share with fellow users of the app.
Seeing as the market was now three apps closer to being saturated with this kind of thing, we took some time to seriously consider the future of Moments. Was it too late? Had we simply not been quick enough? It would have been so easy at this point to give up, but nobody ever got anywhere by taking the easy way out. Competition is inevitable in any industry, especially where digital products are concerned as the technology required to create them is available to pretty much anybody.  Plus, while Moments may perform a similar function to those we've mentioned, it's not exactly the same. It's also a website, not an app. With this in mind, we decided to press on. 
Now we'd garnered a second wave of enthusiasm, we set about doing that tedious bit that needs to be done but nobody really wants to do - planning. Soon it was decided that if the finished product really was going to be the dog's doodahs, we should scrap it all and start all over again. Well, not scrap it ALL, just backtrack over what we've already done and make it a whole load better. Cue the birth of the Ideas Wall.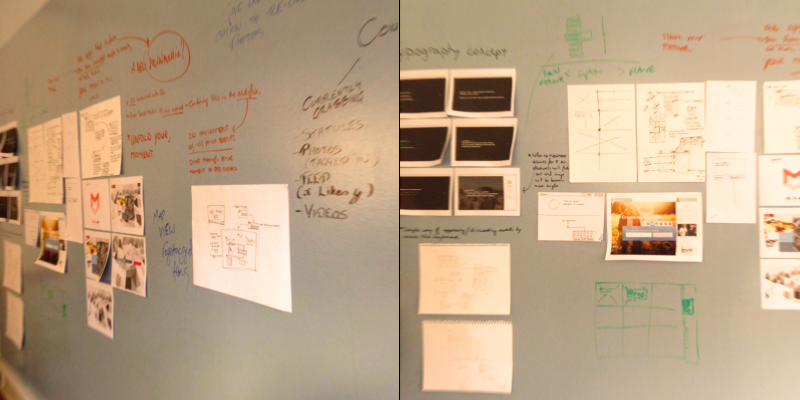 So far, we've only got as far as some preliminary visuals and annotations in spidery man-writing, but we'll keep you updated with our progress right here on the blog.  Until then, here's a pug dressed as Darth Vader. Enjoy.