We work with a wide variety of clients on many different types of digital projects, but the new IRIN News site project meant a huge amount to everyone at BLISS. This is what we're in it for. This is why we do what we do. And so we wanted to share a few thoughts from the some of the key team members who were involved.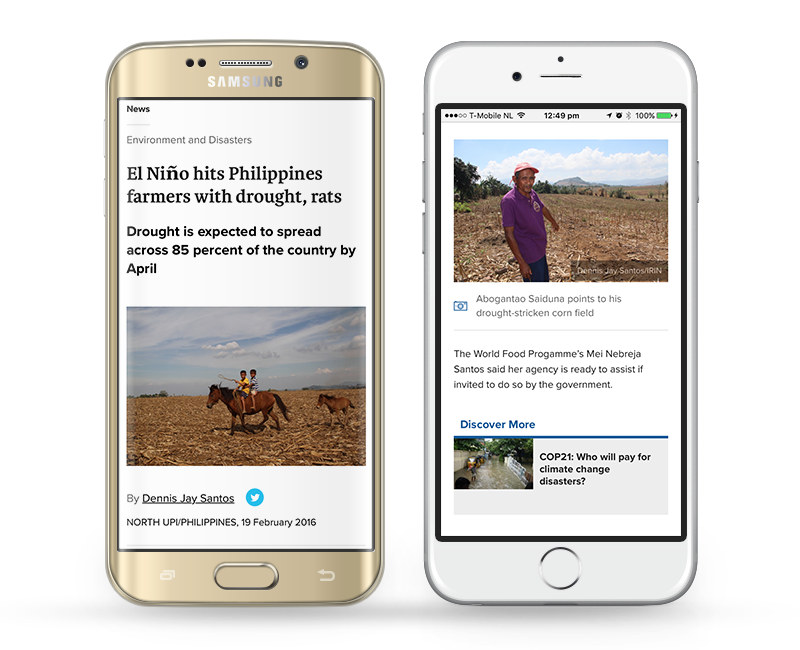 Nathan Beck, Creative Director
To say this project was really hard work at times would be an understatement, but to this day it's the proudest thing I've achieved in my job. IRIN News' old site was spread across various outdated platforms, was unresponsive, and contained tens of thousands of articles and media, and the site gets huge amounts of traffic from all around the world on all sorts of devices. So the amount of research, testing, wireframing, prototyping and trial and error that went to moving this huge site into its new form was extensive, it was exhausting.
There were points where there was no light at the end of the tunnel, but we managed it! And now let's hope we can continue to improve it and make it a top class news platform. Already we can see there are still huge areas of improvement to be made.
Knowing how muchtime and passion and the general slog that has gone into this, it's hard to excited about it now; I'm too close to it. But hopefully in a year I'll be able to look at it from a distance and appreciate it.
 
Laurie Peacock, Project Director
I realise this sounds a little over the top, but I can't think of a time in my working life, that I have felt prouder than I did when we delivered the new IRIN News site. Proud not just in myself, but in everyone I work with. It has been an absolute honour working with these people on this project. 
I won't bore you with too much detail about the challenges we faced, but simply state that there were varied and abundant. The site we replaced was launched when Google was still spelt 'googol'. It had hundreds of thousands of pieces of content, hundreds of thousands of email subscribers and hundreds of thousands of monthly visitors. Two-thirds of it are in languages I don't understand! It was a beast. 
I'm proud not just because we overcame these challenges and delivered the project on time, and on budget, and that we surpassed the expectations of the client. But also of the way in which we did it. We were all pretty exhausted by the end but the project was stress-free. There was no crisis talks with the client. No one was working evening after evening, or through their weekends to get the job done. We identified issues and risks, found solutions and got on with it. We navigated through a storm, and although we were wet and tired at journey's end, I never once worried our little boat would sink.
 
Adam Nuttall, Developer
IRIN News was a personal technical challenge due to both the age and the amount of content that we wanted to preserve from the old site before it was replaced. Thanks to our work as a team, made up of design, development and those who tie us all together, we managed to make 83,307 reports and 38,061 images - some from 1999 and before - look just as stylish as brand new reports created in 2016. This will ensure IRIN News continues to be the online home of humanitarian news and analysis.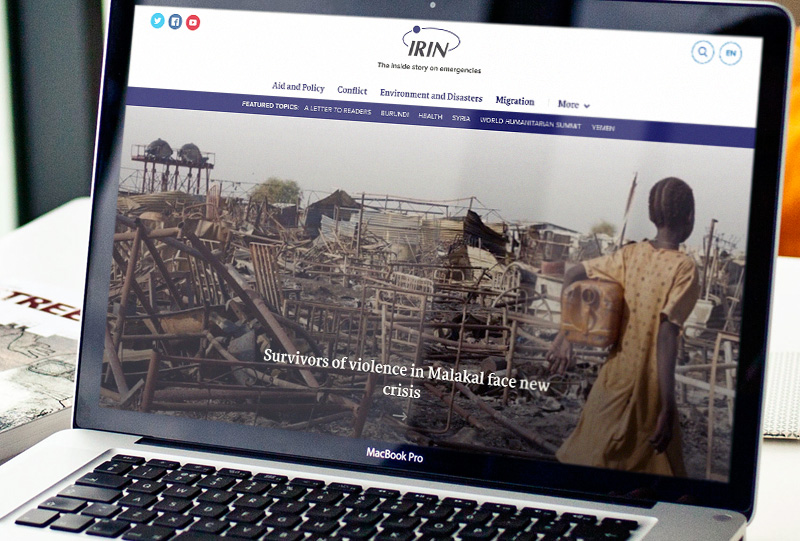 Tom Wilks, Front-end Developer
The road to the completion of the IRIN News site was a long and complicated process. Knowing at the end that the development processes and best practices applied at the initial stages of the project were correct is a very rewarding feeling and one which will reinforce my beliefs in those processes and practices on many a project to come.
I am proud knowing that code I've written will be flawlessly served to hundreds and thousands of visitors, using a multitude of different devices and in many languages. It is a huge milestone for me and the BLISS team. 
The work IRIN News does is phenomenal and I'm proud to have been a part of building a platform that will continue to drive their success.
 
Sam Doherty, Digital Marketing Manager
I started work at BLISS when the IRIN News project was already in full swing. In fact, BLISS redeveloping such a prestigious website was one of the factors that made me want to work here.
Through our clever content migration, many common redevelopment-related SEO issues had already been handled, but I worked on sweeping up the remaining issues. 
I performed a full redirect audit and provided the development team with insight into how to avoid any remaining SEO related issues. The redevelopment of the IRIN News website was BLISS' biggest project to date and I feel proud to have been a part of it. I hope the new, good looking, easy to use, IRIN News site will have a positive impact for the thousands of people who visit it for humanitarian news every day.
 
Jon Stutfield, CEO
The partnership with IRIN News felt right from the first moment they reached out to us. We have a strong company ethos, and the whole team was galvanised by the opportunity to work with such a worthwhile organisation. It changed, or at least focussed, our entire company outlook.