SEO is often perceived as the dark arts of marketing... a tricky subject, requiring technical expertise and years of experience.
But this article debunks this belief - SEO is a science, not a magic! By showing you some superb free tools and tips, you can to tackle SEO with ease, build up your knowledge and expertise, and most importantly, help your website stand out within the SERPs (Search Engine Results Pages) and generate more traffic.
Table of contents:
Keyword Research Tools - Dominate Your Niche
On-site Optimisation Tools - Boost Ranking Positions
Domain Analysis Tools - Spy On Your Competitors
Technical SEO - Made Easy With These Free Tools
Link Building Tools - Speed Up the Process
---
This article is part of our Content Hub on how businesses can proceed with marketing during this Coronavirus period. Bliss is pooling our 10 years of industry experience to create these free and informative guides to help you, with weekly updates.

"SEO is a science, not a magic"
Keyword Research - Dominate Your Niche
When embarking on keyword research for your website, content, products or services, there are a number of things that we are trying to understand and achieve:
What keywords and phrases are my customers using to find my website? 
What are the volume of searches for these particular keywords? 
How difficult it would be for me to land on the first page for these terms? i.e. Who am I competing against?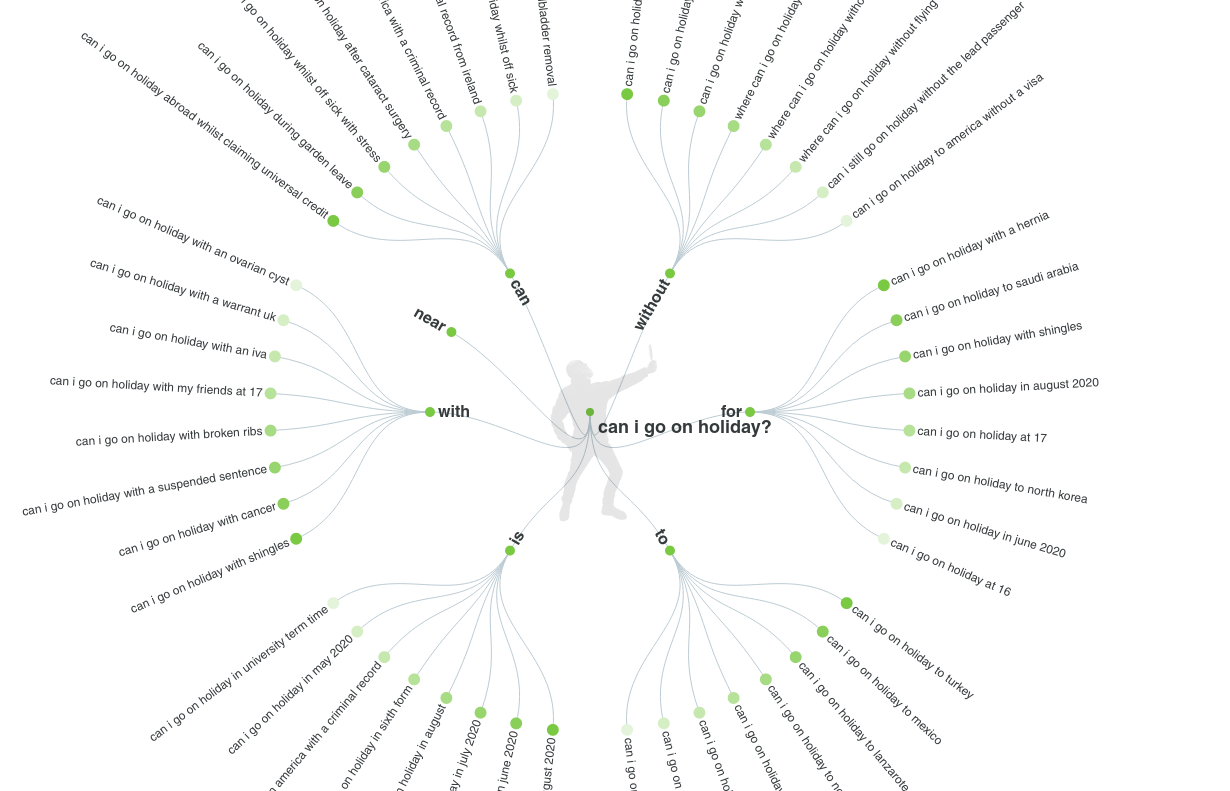 Image: Find out what people are searching for via Answer The Public
Here are a number of keyword research tools to help answer the above questions. Plus, they'll arm you with the knowledge to decide on those all-important target terms for your content:
Easy to use
More advanced
Free chrome extensions
Keyword Surfer - Type a search into Google and see keyword ideas and volume right on the SERPs. This tool also analyses each result in terms of traffic and word count
 
SEOStack keyword tool - Gathers hundreds of keywords from your one suggestion by scraping autocomplete suggestions from Google, Youtube, Bing, Yahoo, Amazon, and eBay
On-site Optimisation Tools - Boost Ranking Positions
Now that you've found your keywords, it's all about making sure your site's pages are optimised for them. As well as how your individual pages look within the SERPs
These tools highlight issues on-site and help you to optimise each individual webpage in order to improve the ranking position for a chosen keyword or phrase.

Easy to use
SERPsim  - With this tool you can generate a SERP snippet and fine tune how your website looks in the search results by inputting your title tag, meta description and URL
SiteGuru - Handy on-site audit tool which runs through numerous page checks and delivers a report with suggestions
More advanced 
Free chrome extensions
Ahrefs' SEO Toolbar Chrome and Firefox extension - Gives an on-page data report to check title tags, meta descriptions, h1 tags, word count and more
SEOInfo - Provides a nice snapshot of how the page is performing, if indexed, how it looks in the SERPs, mobile friendly, structured data opportunities
Technical SEO - Made Easy With These Free Tools
These tools and extensions check the health of your website and ensure everything is working perfectly from a technical level. 
Can improvements be made so things run more efficiently? From speed improvements to crawling and indexing, they perform essential checks to help boost your website performance.

Image: Screaming frog, a website crawler/audit tool
Screaming frog is THE first tool we reach for when auditing a website. It gives us a quick overview of how big the job is
Easy to use
Mobile-friendly test - A quick test to see if your webpage is mobile friendly. Issues are highlighted with recommendations
More advanced
Screaming frog - A technical SEO auditing tool for crawling websites. Crawl 500 urls for free and analyse page titles and meta data, broken links, status codes, duplicate content & more.
Alternative HTTPstatus.io
Google search console - Plug in your website into this free Google tool to measure search traffic and performance. Issues are highlighted and fixes can be validated. 
PRO TIP: We encourage anyone with a website to use and learn about this tool
Cloudflare is a free global CDN that can help to speed up your website. Also allows for easy DNS management and protects your site from cyber attacks
Free chrome extensions
Redirect Path - This is a handy little tool that shows all urls in a redirect chain. Redirect Path flags up 301, 302, 404 and 500 HTTP Status Codes as well as client side redirects like Meta and Javascript redirects.
Alternative Link Redirect Trace
Domain Analysis - Spy On Your Competitors
These tools help you delve a little deeper to understand how websites are ranked within the SERPs. Would you like to know why certain competitors rank higher than you? Who is linking to them? What keywords they are focusing on? You can even find out how much they are spending on advertising!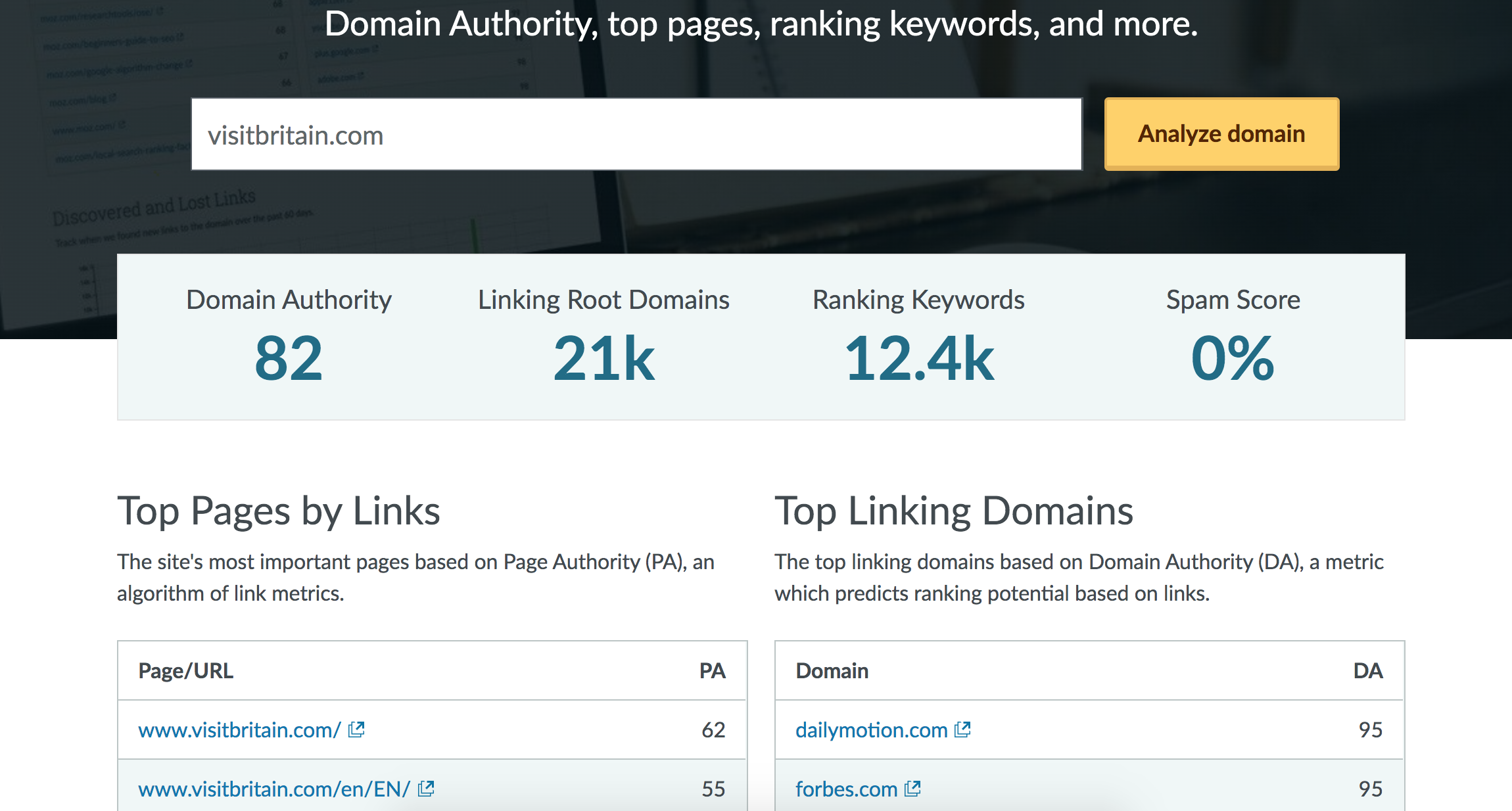 Image: Free domain analysis tool from MOZ
Easy to use
Serpstat - A freemium multi-tool allowing you to analyse up to 10 domains per day. Check organic keywords, traffic levels and backlinks for any domain
MOZ free domain analysis - A tool that highlights top-linking domains, best performing pages by links, top ranking keywords and who your main competitors are in the SERPs
Free chrome extensions
MOZBar - Check domain and page authority of your site and competitors
Quick Click Website Audit  - Links you to a range of very popular tools that help you to analyse and audit any website or webpage
SERPTrends SEO Extension - Gives you information on each SERP listing such as Facebook likes and estimated Ad budget
Rank checking tools
Use these tools to help you to monitor how your website ranks for chosen keywords. Find out which competitors outrank you within the SERPs and what you need to do to move higher.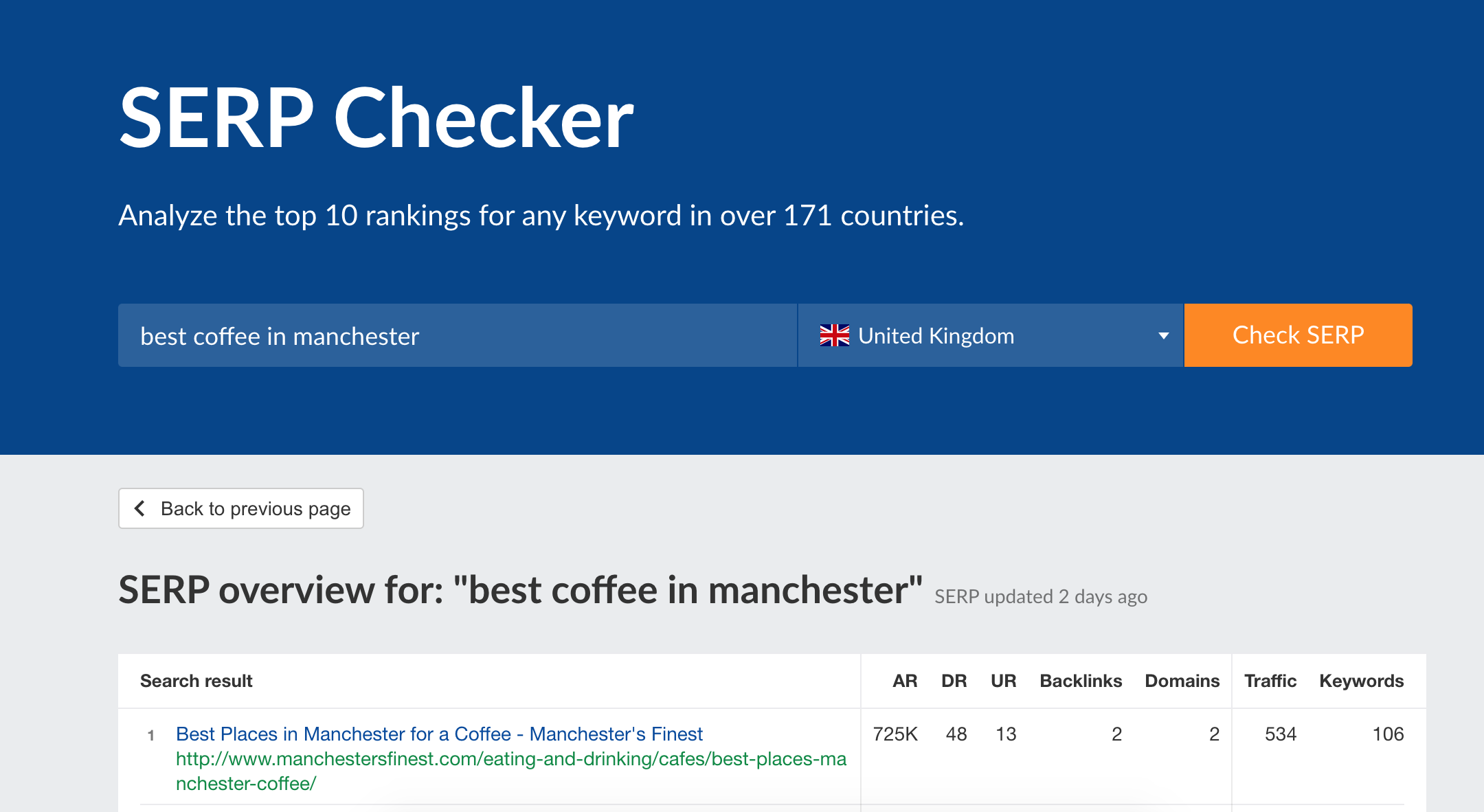 Image: Ahrefs SERP checker
Easy to use
Free chrome extensions
Link Building Tools - Speed Up the Process
Link building is the difficult process of increasing the number of 3rd party websites linking to your website and content. These links are like 'votes' for your website and help to build the domain authority and trust of the website, which give the best prediction on how the website will perform in search engine rankings.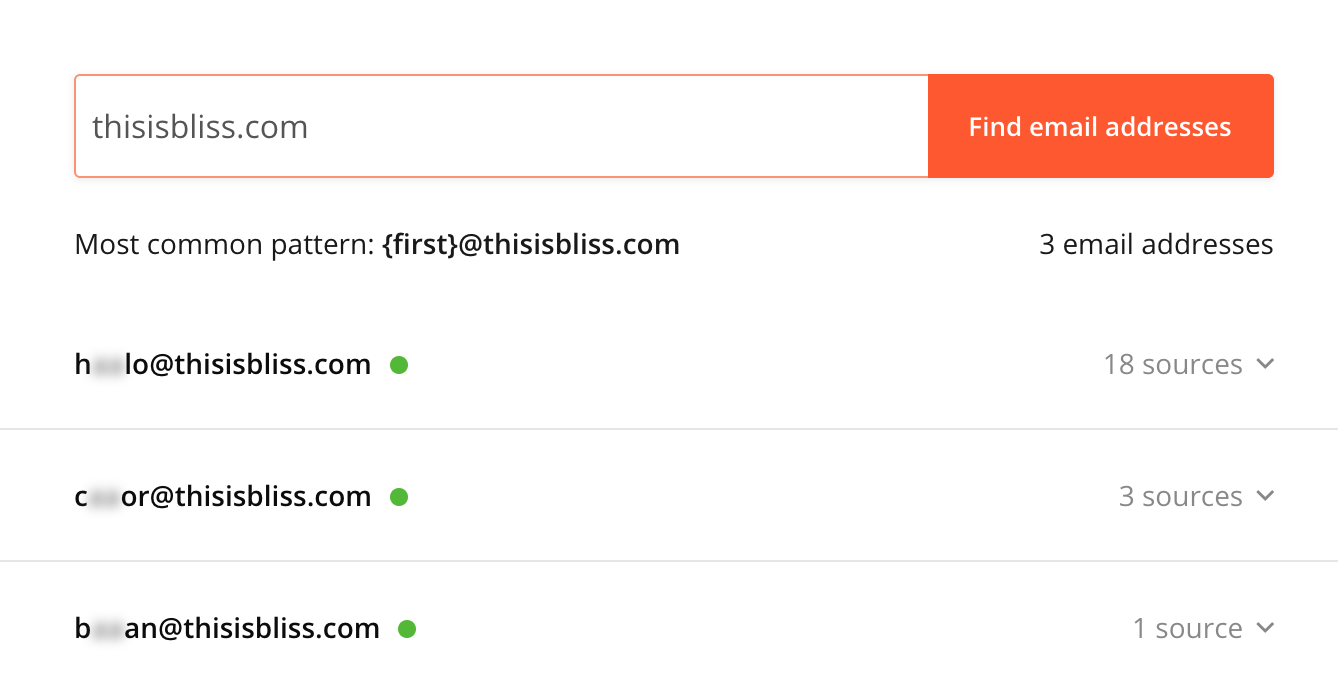 Image: hunter.io outreach tool
Though acquiring links from websites can be hard and extremely time consuming, it's a necessary undertaking to really boost your website up the SERPs. That's why we've amalgamated this list of link building tools and services to help you get started and speed up the overall process:
Easy to use
Ahrefs' Broken Link Checker - Identify broken inbound and outbound links. Links pointing to 404 ages can easily be fixed for quick wins
hunter - A great outreach tool for finding email addresses associated with a website. Sign up for a free account and get up to 50 requests per month.
PRO TIP: Install the Chrome extension for quick access
HARO - Help A Reporter Out connects journalists with news sources, businesses or industry professionals. HARO will send out daily requests from journalists who need help with their content. A great way to feature in a high-ranking publication and gain a link. Alternative SourceBottle
Free chrome extensions
To quickly check broken links you can use LinkMiner or Check My Links.
 Scraper helps you scrape information from any website or directly from the search results. Handy for building prospects and link targets
Keep Up The Good Work
We hope this article has armed you with the necessary tools for you to give SEO a try. The hardest part is sometimes knowing where to start. Although there are many tools in the list that could give your website some quick wins, SEO is usually a gradual process of improvement over a number of months.  We encourage you to persevere and measure performance over 3-6months.
If you are fairly new to SEO and are finding it difficult to know where to start, we highly recommend that you use some of the above tools and also follow the steps in our Guide: How to give your website the ultimate spring clean to get your website in its best shape ever!
Or you can check out the rest of our Content Hub which has loads of articles and advice for businesses wanting to level up their marketing during this period!