It is difficult to keep up motivation when you're not seeing the results you'd hoped for, especially when blogs can take so long to put together. But that's why we have put this guide together, to give you a proven strategy on how to produce successful blog posts in 2020. Saving you time and effort!
Marketers who prioritize blogging efforts are 13x more likely to see positive ROI.
- HubSpot, 2019 (Source)
---
This article is part of our Content Hub on how businesses can proceed with marketing during this Coronavirus period. Bliss is pooling our 10 years of industry experience to create these free and informative guides to help you, with weekly updates.

Save your time by investing in marketing strategies which work
Strategy 1 - Stop thinking of blogging and SEO as separate
Firstly, make sure your 2020 blogging strategy takes SEO into consideration. Ultimately, one of the most popular reasons for writing blogs is to attract more people to your website. But no matter how enticing a post may be, if its purpose or topic aren't abundantly clear, the search engines can't process and crawl it properly and its ranking won't be very high.
You can go too far the other way too. A post may be perfectly optimised for the SERPs (Search Engine Results Pages), but if the quality suffers because of it, it will also lose its ranking potential. High bounce rate and low time on page are low-quality signals for Google. Basically - if people aren't reading your content for very long, search engines see no point in recommending it to others.
They're both hurdles worth overcoming, as high-quality results are more likely to rank higher in the SERPs.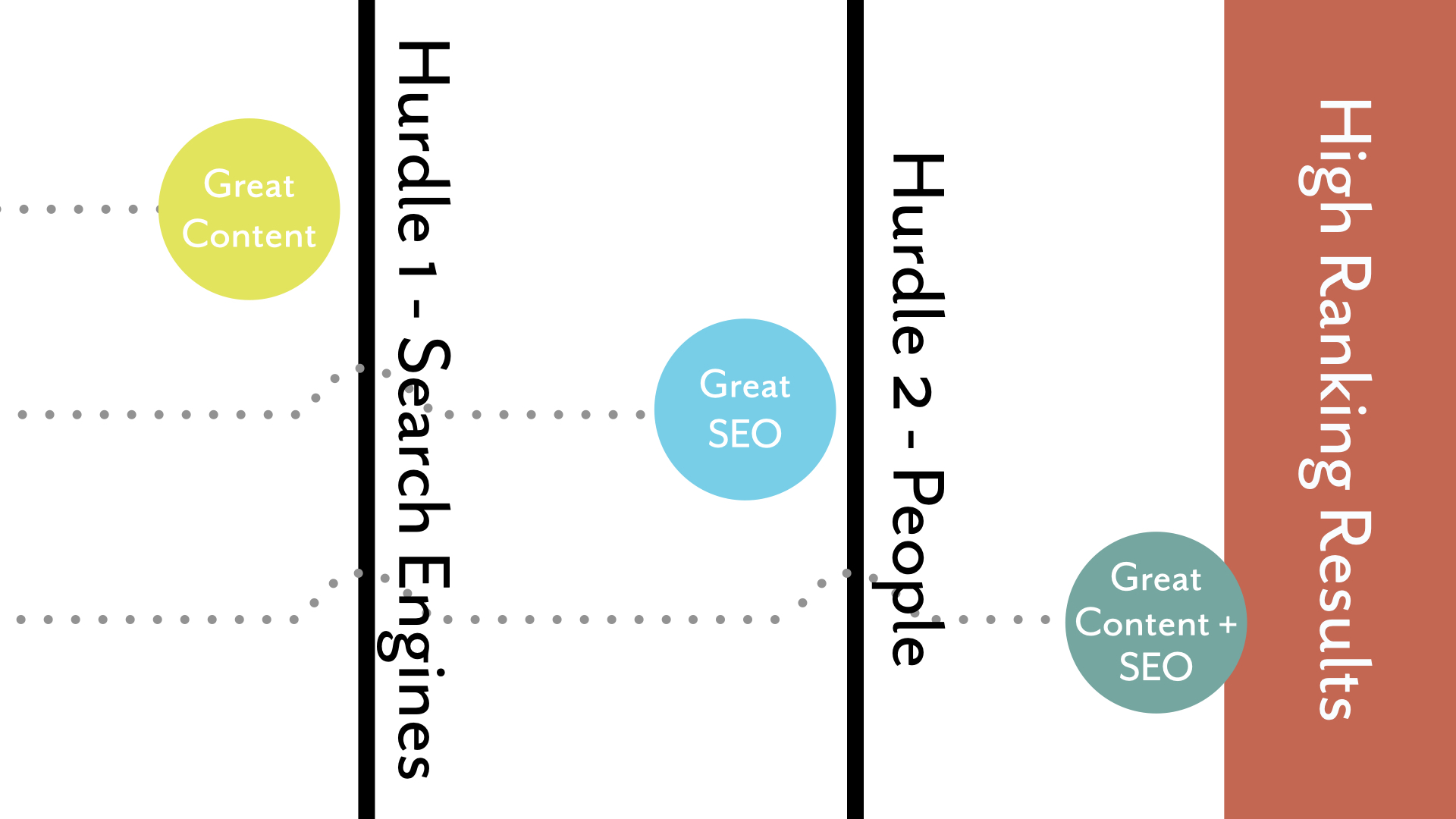 So, want to find that happy medium of great content and SEO? Ultimately, you want to aim for creating blog posts on subjects which are interesting and engaging, which also are centred around highly relevant keywords to your business.
I always ask, does the content provide the best possible answer/information for the chosen search term? If the answer is yes, then it's usually at the top or near the top of the SERPs
- Brian Adamski, Bliss's Paid Marketing Manager
Tips on blogging for SEO
DO
✅ Use headings (H1, H2, H3) to separate your blogs into logical chunks
✅ Pose and answer your own questions, as these may be used as featured snippets
✅ Make sure your meta title and description are relevant to your chosen keywords
✅ Keep your writing visually appealing, so people aren't put off before they even begin to read
DON'T
❌ Overstuff your writing with variations of the same keywords - if a blog reads oddly or repetitively and the quality suffers, search engines will penalise this
❌ Keep targeting the same keywords with your articles. This is called Keyword Cannibalisation and is every bit as serious as it sounds (...kind of). There's no point pitting your blogs against themselves in the SERPs
Want more information?
Strategy 2 - Organise your content into hubs
Going forward, the content-hub strategy has been cited as the number 1 way to optimise your blogs for search engines and humans. 
Once you get used to blogging for SEO, hubs are the next step - allowing you to organise these blogs logically. All to portray yourselves as experts in the topics most relevant to your business, rather than creating a load of blogs of equal measure on a mish-mash of subjects. Hubs simplify the relationships between your content for Search Engines.
What is a hub?
A hub consists of:
1 piece of pillar content - a main, in-depth blog post or webpage
 4+ secondary blog posts surrounding the topic
Many hyperlinks linking from these secondary blogs to the pillar content
Your website's blog can be home to numerous hubs, each focusing on a different set of keywords relevant to your business.

The clear linking between them makes it much easier for search engines to process and the multiple sources backing up your pillar content highlight its importance.
How to pick hub topics
Choose hub topics based on the keywords you would like to rank for. For example, if your goal is to rank for 'Caravan holidays in Wales', you could have one hub on 'Wales as a holiday destination' and maybe a second on 'the benefits of caravan holidays'.
The next step is to break them down into the pillar content - the most comprehensive information - and supplementary information as your secondary blog posts (remember that these secondary blog posts all have to be on individual topics - don't keyword cannibalise!). 
Ideally, you want to cover any questions a customer may have on a topic. So whatever they search for, they're directed to your website and then directed to your pillar content.
For example, the 'Wales as a holiday destination' hub could consist of:
Pillar content of 'X reasons why you should make Wales your next holiday destination'
Some of the best attractions to visit in Wales
How to save money on your holiday
Some Welsh delicacies, traditions or words
Stuff to do on a Welsh road-trip
The best beaches in Wales
Hopefully, if you've been blogging for a while, you may already have some blogs which could slot quite nicely into the hubs you want to create, or just need a little editing to be relevant! Use these too, as they can be just as valuable as completely new content. Especially if they've already been ranking well in the SERPs.
PRO-TIP: Keep your high-performing blog posts refreshed frequently (including their publish dates). Users and search engines love up-to-date content!
Struggling to think of topics for your hubs? Here are some sources of inspiration:
Paid campaigns which have done particularly well
Answers to questions your sales team frequently gets asked
Pain points your customers may have and how you offer a solution to them
What are your customers searching for to find to your website
Once you have your topics, you have the basics of a content plan to follow, all working towards ranking for your chosen search terms.
Strategy 3 - Make sure every piece of content has its place on the sales funnel
We mentioned before that one reason to blog is to get people to your website. Say you've accomplished this with some great in-depth hubs and SEO-friendly content, what next? Introducing the sales funnel! 
You may already know the sales funnel from… sales, but it can fit just as nicely into your marketing strategy too.
What is the sales funnel?
For those who don't know, the sales funnel represents the journey potential customers go on from first hearing about a product to buying it. Rarely does someone decide to purchase something from one advert or blog post. Instead, people need different types of content to counter the scepticism they may have to the business, brand and the product itself.
Ideally, you want every piece of content you produce to have a clear place within the funnel, and a good amount of blogs in each section. 
PRO-TIP: Evaluate your current content to see if it skews too heavily to one part of the funnel. If so, focus your attention into the other sections.
You can use different blogs to introduce readers to your products and then to the idea of them purchasing them, all by the 5 following stages.
Sales funnel stages
1 - Awareness
These are the blogs for people who have never heard of your business before. The topics don't even have to relate strongly to the end product which you are selling. It's more about casting your net wide, to try and grab as much attention as possible.
DO
✅ Write content which is interesting to people who may have never heard of your business before. Hook them in with fun topics.
✅ Consider boosting these articles on social media, to reach the widest audience possible
DON'T
❌ Try to sell anything at this stage, it seems off-putting and ingenuine
2 - Interest
If you've been successful in the first stage, some of that audience may decide to read into more of who you are and what you do. Especially if you've popped up a few times, they'll have a curiosity to learn about your brand, but aren't necessarily ready to part ways with their money yet.
DO
✅ Make sure there is plenty of content on your site relating to questions customers frequently ask
✅ Educate your potential customers on your business and products
✅ Offer them the opportunity to sign up to your company's emails, to find out more or get a discount
3 - Consideration
The remaining potential customers are now seriously considering your business for themselves. It's time to delve into the details of what you sell, and really show them how it would benefit their lives. Especially in comparison to any competitors they may be considering. What makes your product stand out?
DO
✅ Have reviews and testimonials on your site, social proof is really effective at this point of the sales funnel
✅ Write content to really drive the conversion of a sale
4 - Intent
This one is pretty self-explanatory - the customer has the intent to buy your product! If they've got to here on the sales funnel, your content has been successful! But that doesn't mean that you're finished quite yet…
5 - Action
All too often, we can forget to write blog posts for the people who have already bought from us when they are actually a prime audience to target. Keep them engaged with your brand and excited to be part of it, and they're much more likely to re-purchase or even promote you to their friends.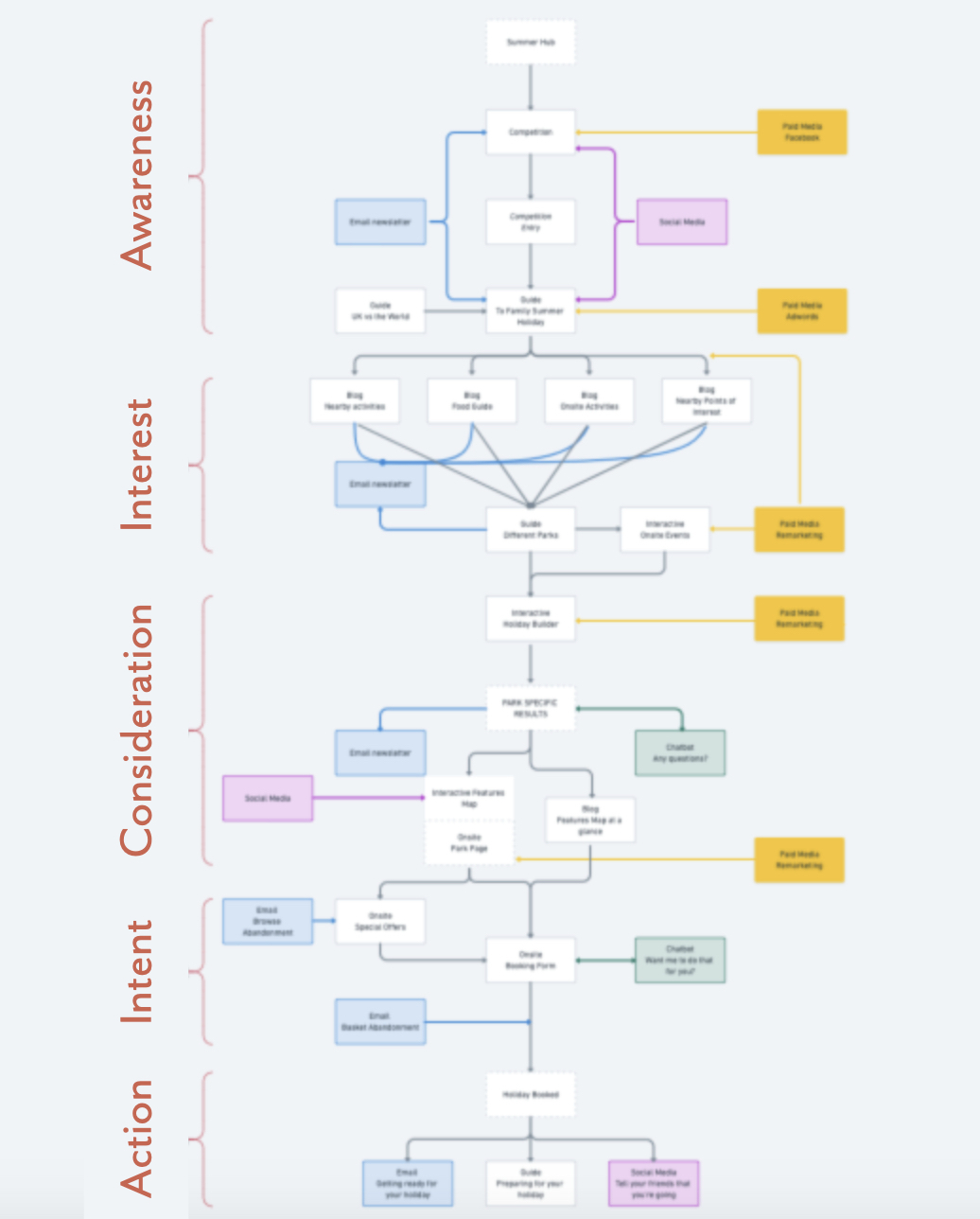 A full marketing plan Bliss created in the Sales Funnel format, with the blog posts and guides in white
How does the sales funnel fit in with content hubs?
There isn't a singular rule for which stage of the sales funnel should fit with each part of the content hub. You may even find that the longer pillar content is on the cusp of two stages. 
Using our example from earlier, 'Wales as a holiday destination' and 'The benefits of caravan holidays' will occupy more of the awareness and interest portions of the funnel. 
Reimagining your content in 2020
This guide has given you the best-practice strategy we always encourage at Bliss. It may seem a little daunting - how much thought has to go into the intent of every blog - but once you've put in the leg-work of keyword research, hub planning and sales funnel adjustments, you'll find the posts you produce feel a lot more purposeful. 
Remember though, as much as it is about getting people on your website, none of this will be successful if you aren't writing engaging content people actually want to read. So don't rush and don't worry! Quality beats quantity when it comes to blogging. Results will never pour in overnight, but if you persevere with a quality blog strategy it will eventually pay off.
---
Check out our full Content Hub for advice, best practice and ideas on how businesses can proceed with digital marketing during the Coronavirus period.
Articles and Blogs
Our blog gives you more of an insight into who Bliss are and what we're up to. Check out our articles below.
View all articles