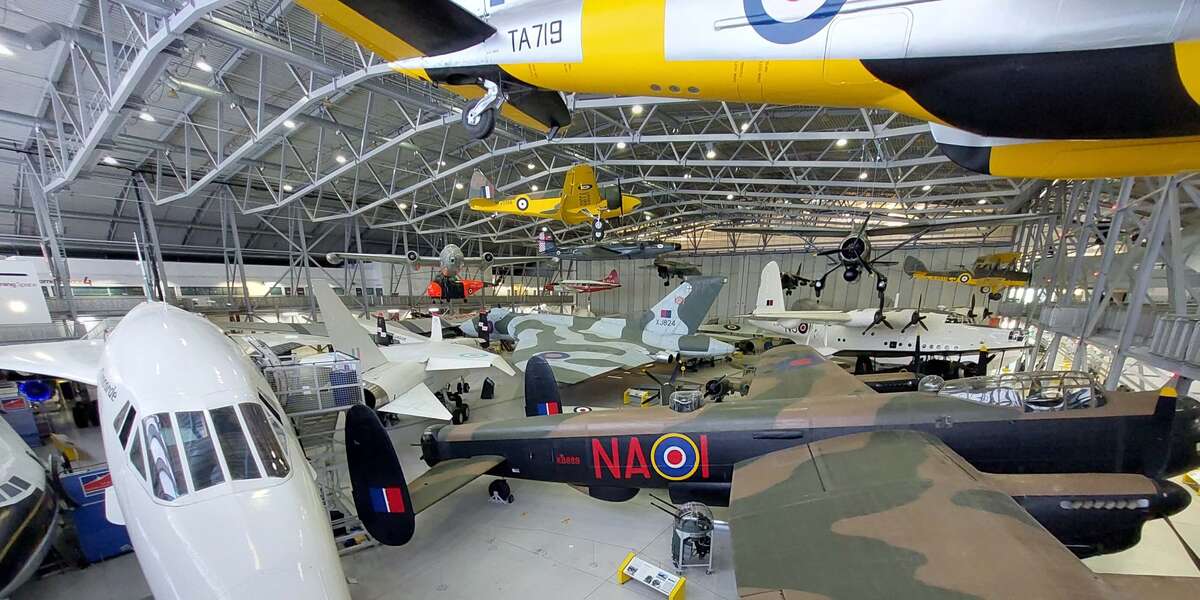 You may be surprised to find the American Air Museum in the heart of the English countryside, but it's a museum of Anglo-American collaboration. Specifically, the museum commemorates how British and American air forces have worked together over the years.
It's part of the Imperial War Museums (IWM), a charity which shines a light on the consequences of war.
The museum's archive
The American Air Museum is a Grade II* listed building containing 19 historic American aircraft. It opened to the public at IWM Duxford on 1 August 1997 by Queen Elizabeth II.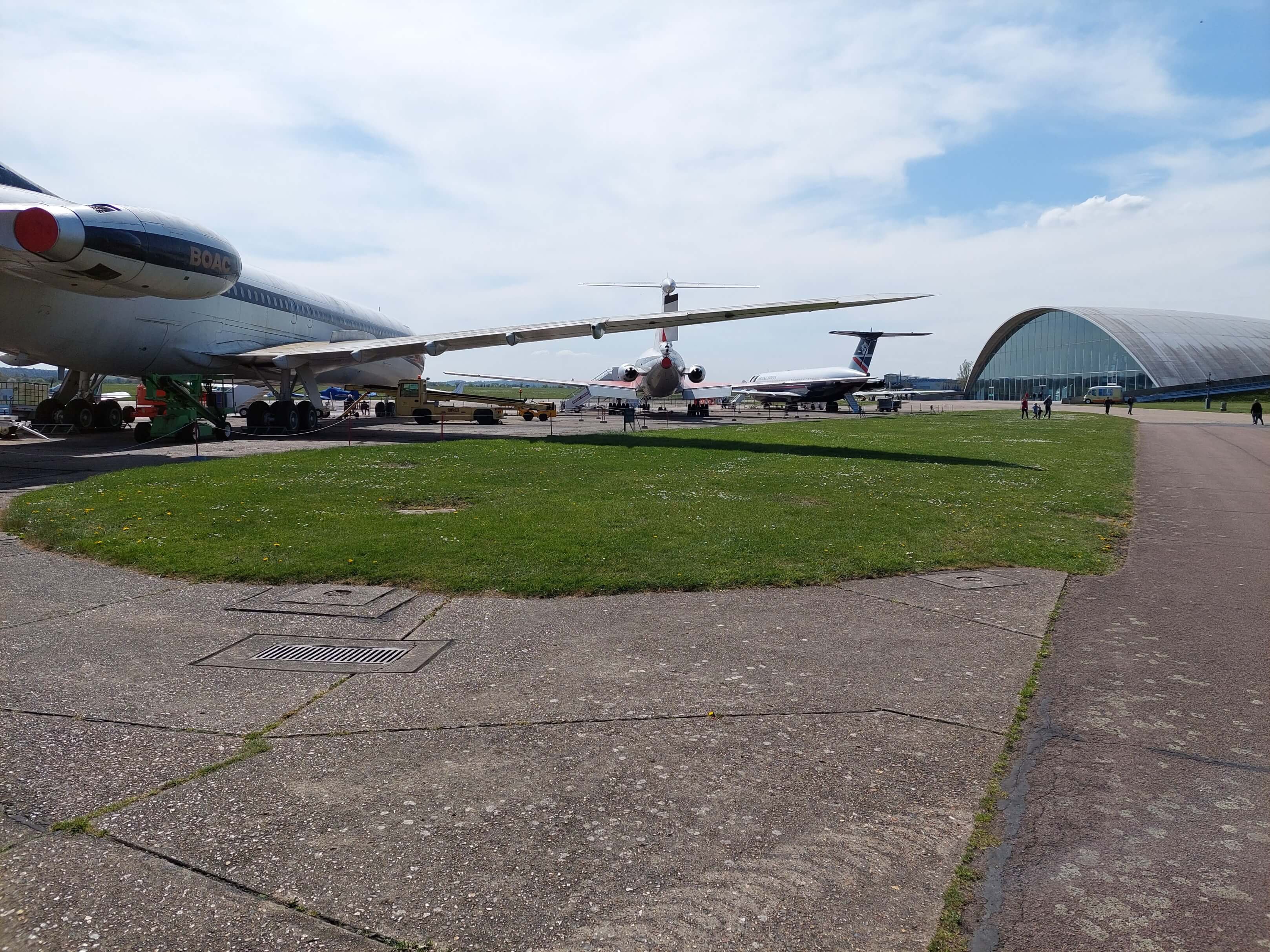 The website is also a wealth of information - it's home to an archive wiki which documents the US air campaign in Europe during World War 2. Users around the world can add information about service people, missions and aircraft, to paint a greater picture of the individuals that served with the US Army Air Forces.
Website requirements from the American Air Museum
This archive is an important piece of history, a valuable historical record and a place where users can find and share information about family and friends who served. However, the way the website was originally built, it struggled to grow.

IWM were on a mission to modernise their vast library digital infrastructure, and they needed an agency partner they could trust to:
Redesign the website

Improve usability 

Carefully migrate the archive

Build a future-proof website 
There are 100,000s of stories in the archive at risk of being lost during this update, so it was down to Bliss to rescue this content and ensure the longevity of the website.
---
Redesigning the website
The first thing to do was redesign the American Air Museum website to give it a fresh, modern feel and ensure that it was consistent with IWM's other sites. There were three major goals that these new designs needed to achieve:
1. Improve the site structure and user experience
As the website had grown, information was becoming harder for visitors to locate. Bliss wanted to make browsing a breeze so that users could quickly find what they were looking for in the archive.
We created a new sitemap to improve the website's architecture, then individual pages were redesigned based on best practice. This meant that content was displayed in a more logical and accessible way, making the pages and website easier to navigate.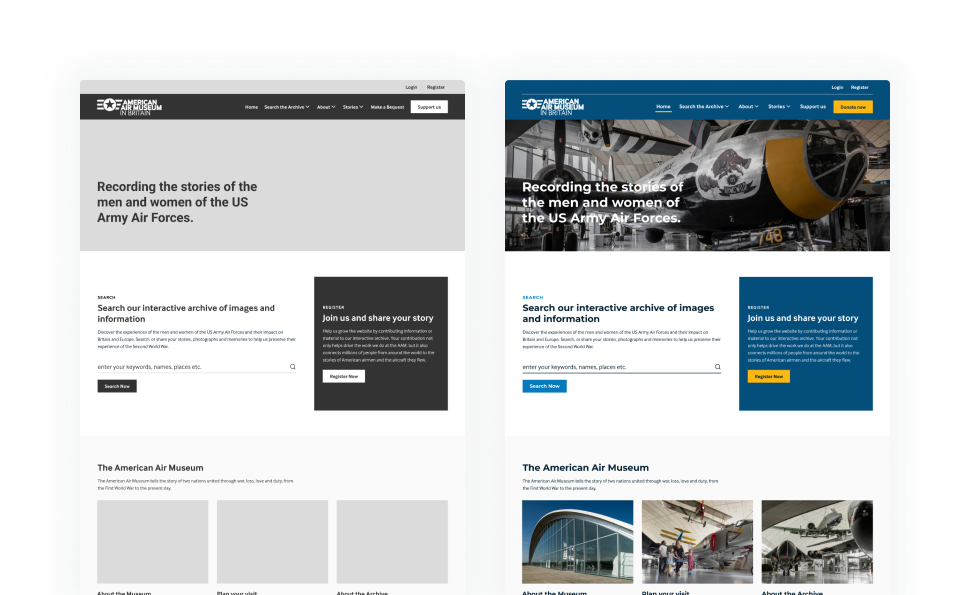 The mid-fidelity wireframes and the final design
2. 

Visual Accessibility
The new designs needed to meet web standards so that the American Air Museum could be accessible to everyone, no matter their vision. We followed Web Content Accessibility Guidelines (WCAG) closely and aimed for at least Level AA across the website.
3. 

Clear American Air Museum and Imperial War Museums partnership
Imperial War Museums has a comprehensive set of brand guidelines to create visual unity on and offline. While they didn't want to create a replica of the IWM website, they did want to ensure consistency with the rest of the group.
Our designs celebrated the existing guidelines while giving the American Air Museum its own style and identity.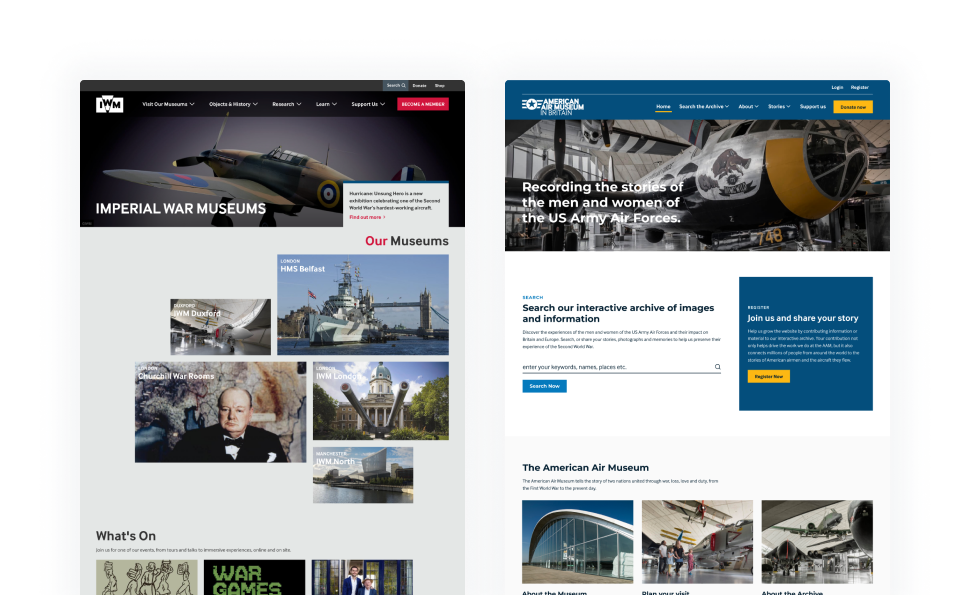 ---
Find out more about how we design websites
---
Developing a flexible website
Once the designs were finalised, it was time to bring them to life through the power of web development!
While the original American Air Museum website had been built smartly to do exactly what was needed at the time, it wasn't a flexible system and was unable to adapt to new updates.
Bliss's first job was to rewrite the code to be less custom-built and more based on Drupal modules, allowing it to:
Work smoothly for the moderators managing it and website users

Ensure flexibility for future growth (without additional development work) 

Be easy to add new functionality and features.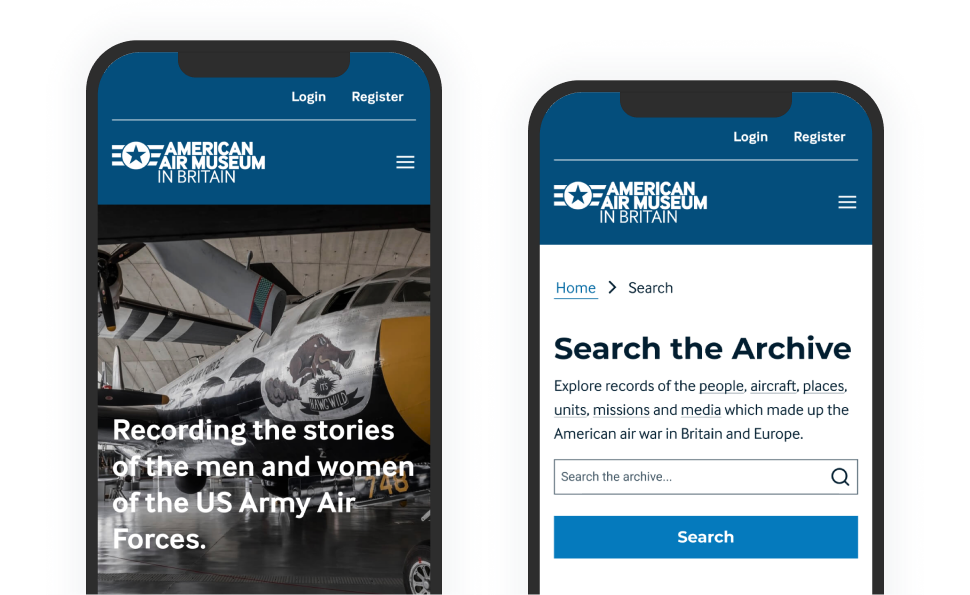 Development example: Taxonomy
The existing website taxonomy terms (i.e. the different content categories used to filter data) were hard-coded, which worked well… until a new taxonomy term needed adding. 
This would require a developer to add the code, increasing costs and sometimes meaning that categories were not added to the website at all. Even when a developer added them, a single mistake made during coding could break other parts of the website.
By using existing Drupal modules for the redesign, the website moderators can now easily add new taxonomy terms which take less than a minute to be fully functional on the website. No development work needed!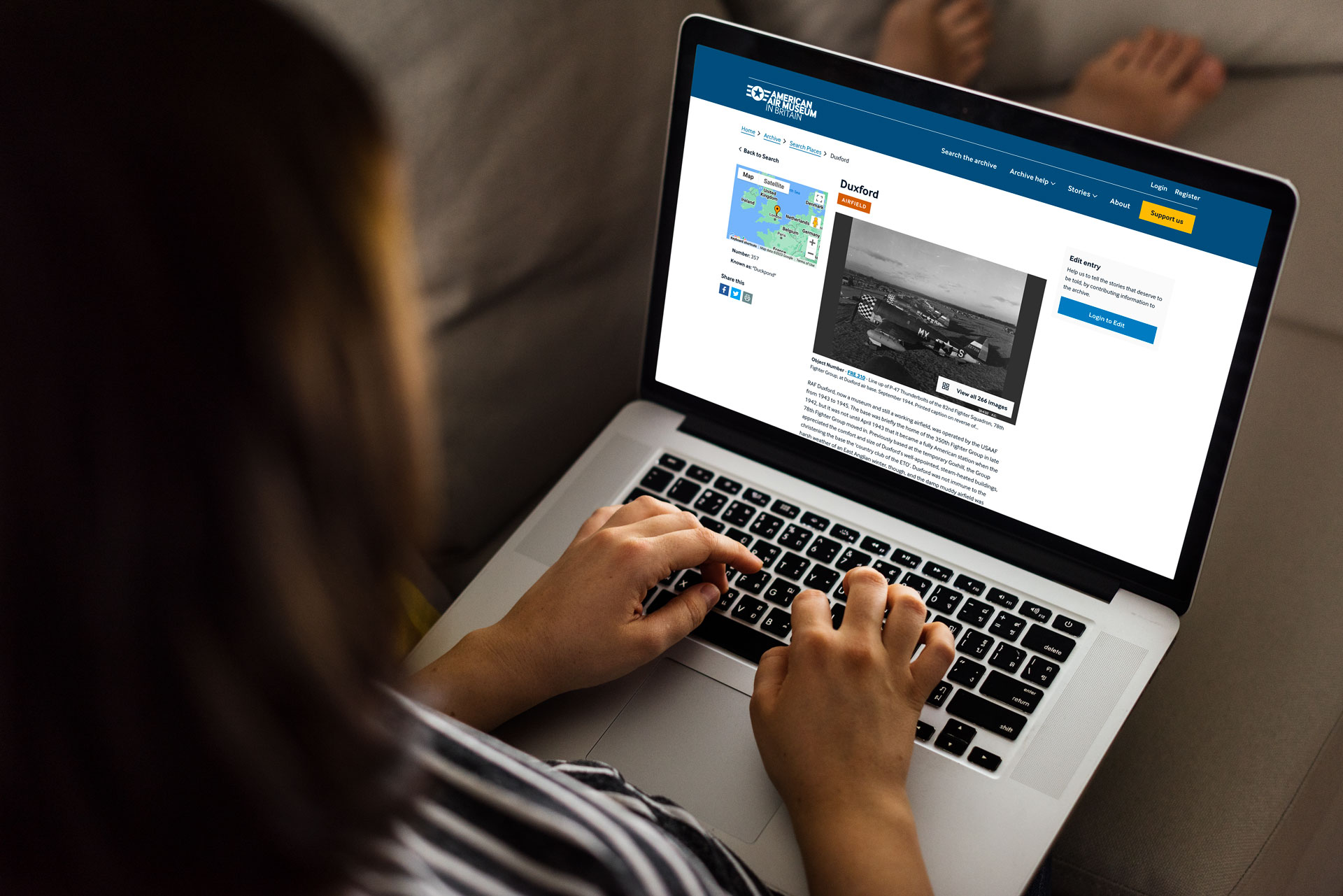 Migrating the archive
Arguably, the most critical part of the project was the successful migration of the archive. With 250k+ entries, numerous sources and varying terminology, this was no simple task.
Going through the process, it soon became clear that there were opportunities to amalgamate key sections of data and taxonomies to make it easier for users to search through (one of IWM's main overall aims!).
Though this wasn't in the original project spec, as a bespoke agency that gives every project extra care and attention, we were able to suggest changes when there was a clear case for them and complete them during the migration.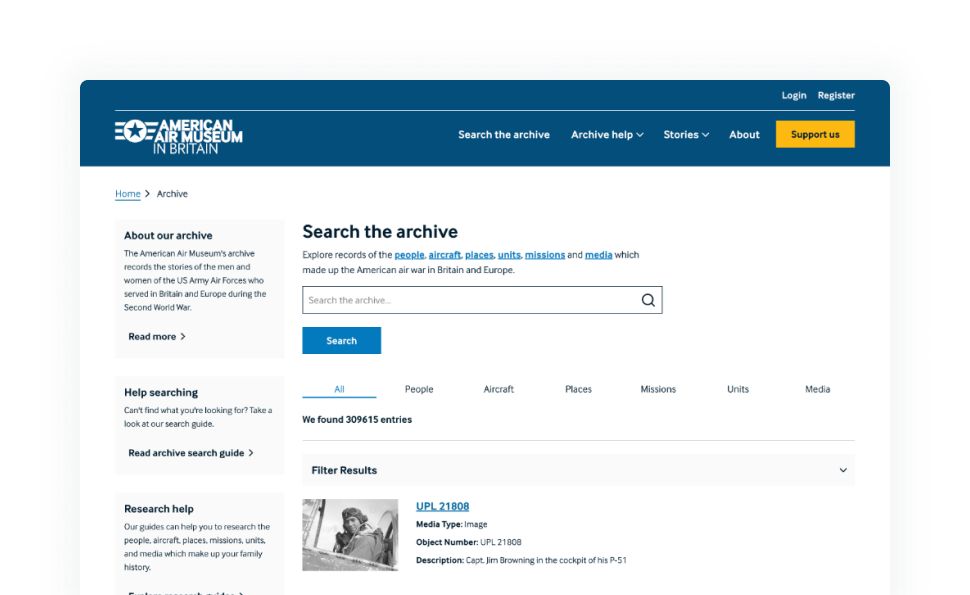 ---
---
New ideas and functionality
As well as updating the website, Bliss proposed new ideas to aid the American Air Museum's digital strategy. 
Development example: Curated Stories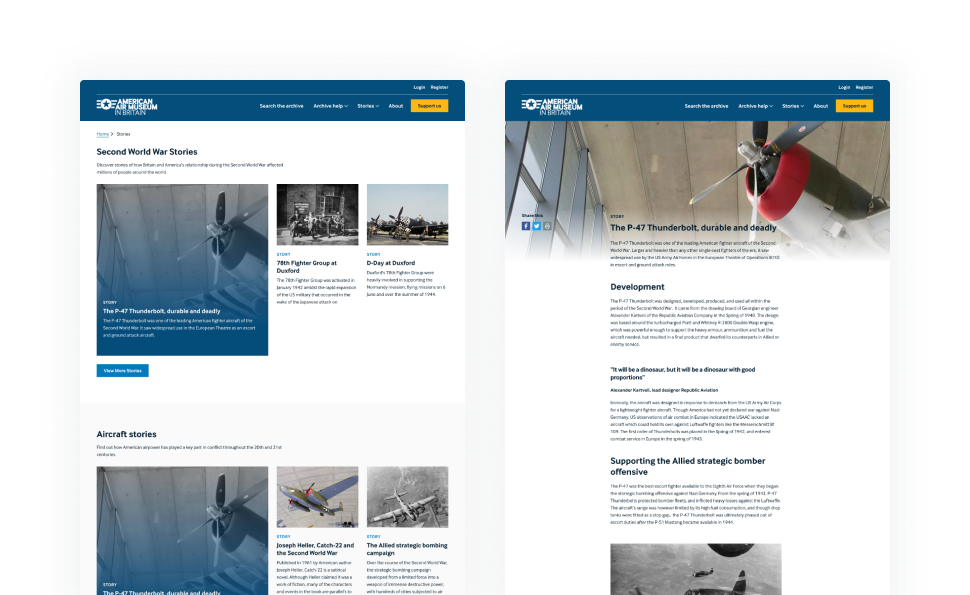 One idea was 'Curated Stories' - new pages which allowed moderators to create factual narratives based on a range of archive data.
By using real-life information about a variety of people, places and situations, Curated Stories would provide a historically accurate yet top-level way of explaining some of the different roles and missions during WW2.
These stories could be more general and less individual than specific archive data, acting as a gateway to encourage people to dig deeper into the archive to learn more about the actual people behind the narrative.
---
Completed website