A News Website to Spread Positivity
DeFrontera is a start-up journalism organisation which highlights positive news from Africa, established by two BBC journalists.
They felt that all too often, media outlets portrayed Africa in a negative light and they wanted DeFrontera to be a celebration of the continent's people, cultures and stories. 
But for all of that, they'd need a website. 
The realities of being a new business meant they had to stay flexible with their ideas. Who knew where they'd be in six months' time? Plus, although they had an ambitious vision, their budget was limited.
That's where Bliss came in. With our experience in building and supporting The New Humanitarian (Europe's largest humanitarian news website) and our expertise in the non-profit sector, we were the perfect choice to help realise the DeFrontera dream.
Read on to discover how we employed tactics to save money and deliver a future-proof website. Or check out the first stage of this project, when we turned the first kernels of ideas into a professional design:
How to Create a Website for a Start-Up
With DeFrontera's designs in place, it was time to start planning and building the website. 

Drupal Platform
We'd recommended using Drupal to build the website for a number of reasons including:
Intuitive back-end
The back-end would be easy to use by everyone, including their growing roster of journalists. Articles and media would be simple to edit and upload in a consistent style. 
Range of modules
Drupal prides itself on its flexible functionality which is perfect for a start-up. We didn't want to build anything too prescriptive that couldn't shift with DeFrontera as they grew.
Open-source
The platform's open-source nature aligns well with both Bliss's and DeFrontera's sustainability values.
Plus, Drupal is what we used to build The New Humanitarian and other online magazines, so we knew it worked well for journalism websites.
Website Taxonomy
The vision for DeFrontera meant that it was never going to be a small website. With potentially hundreds of articles, all on different topics, it was necessary to have clear website taxonomy with relevant category pages.

However, the more complex the website, the greater the cost.
This prompted an important question - how should the articles be categorised efficiently? By the theme of the article? Whether it's a video or a written piece? The country or region it's based on? By author?
The start-up had some concrete ideas of key categories they wanted, and some they could foresee needing, but the overall structure had yet to be decided.
Another factor to consider - while there will be articles in the future, to begin with, some category pages could be unpopulated. These could be dead-ends on the user journey and leave the website looking empty and lacking in authority.
Bliss's answer to these questions was to build a bespoke modular system which would allow for different types of categories (theme, region, author etc) to fit together.
This modular system for DeFrontera's website taxonomy gave them the power to create new categories as they saw fit, without the need of a developer. 
Varied Content
Another important element for DeFrontera was displaying articles which looked great and could feature different types of media - written, images, video, audio or any combination of all of these.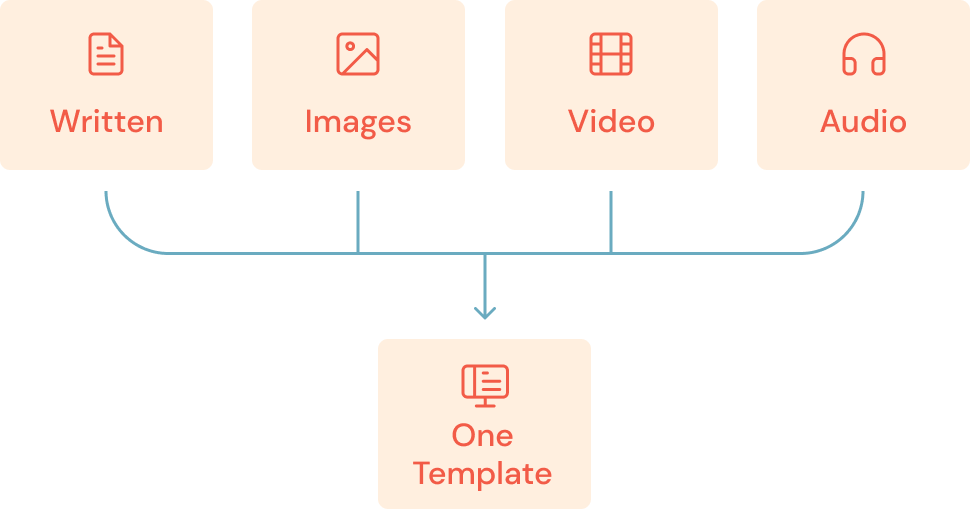 However, the more types of article templates to be created, the higher the cost. So to keep the budget low - we built one template.
From that template, a variety of rich media components could be embedded. Coupled with a comprehensive inline content editor (aka WYSIWYG), it promised visual consistency but completely unique articles. 
This practice spanned to webpages as well as articles, which were formatted similarly with the onus being on the DeFrontera-created content and flexible, embeddable functionality to make the pages stand out. 
We didn't want to burden them with extra development time and costs. 
Our experience from working with charities and non-profits meant we could even recommend an affordable donation platform to be embedded!
Ambitious Start-Up Website
DeFrontera was always going to be an ambitious website, especially for a start-up with a limited budget. 
By prioritising customisation and modular elements, Bliss has been able to provide them with a robust website. One which is easy to browse and use, which showcases all sorts of articles, and can easily flex and grow with DeFrontera (but without endless costly development work). 
Ultimately, the DeFrontera website will be able to bring more and more positive journalism to the internet. Something that we all can benefit from!
Working with Bliss was great because we wanted an identity that stays true to the old school boots-on-the-ground journalism but has the dynamic energy that journalism needs to be relevant now.
- Verah Okeyo, DeFrontera's Editor at Large
---
Completed website