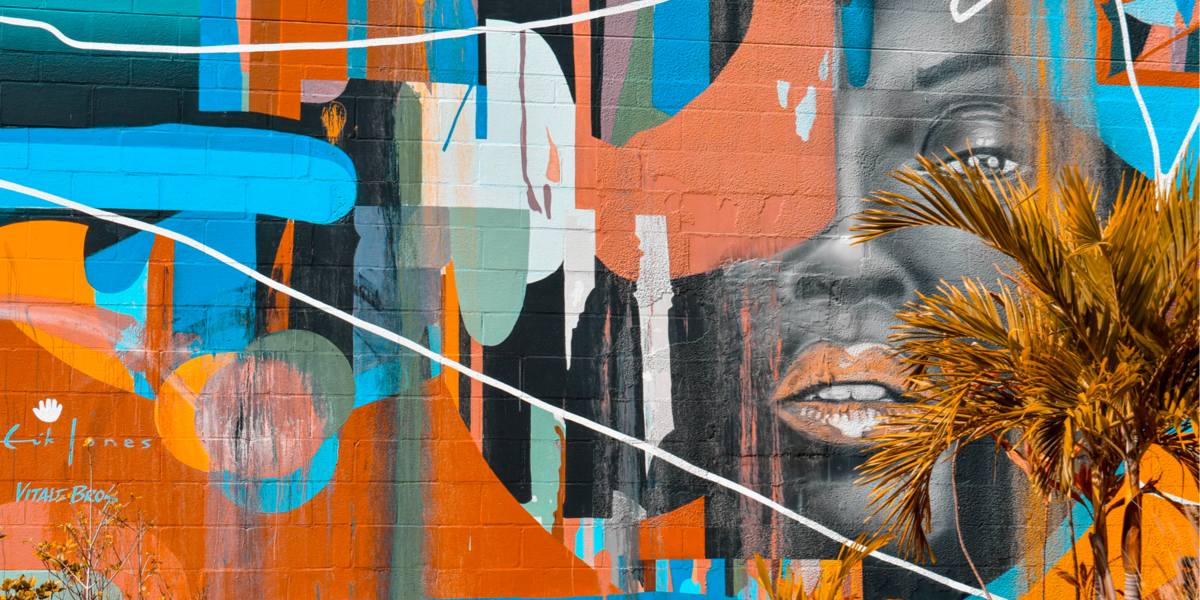 About DeFrontera: Non-profit news organisation
DeFrontera is a non-profit news organisation with a vision - to highlight and share positive journalism from across Africa.
It was set up by two well-established Kenyan journalists, who wanted to create an alternative news resource to the negative publicity African countries often receive. So they came up with the idea for DeFrontera. 
The next step was to realise their dream, and for that they required branding, creative and ultimately a website. 
Start-Up Needing Design
As both a non-profit and start-up business, DeFrontera's budget was limited. However, their ambitions were not - they wanted an eye-catching brand and engaging website with the scope to be able to host and index plenty of articles.
Though DeFrontera had some design preferences, they had minimal creative assets or direction. They were itching to get going though so that they could start publishing news stories.
This is where Bliss stepped in. With our work on the New Humanitarian, a news organisation focused on global humanitarian journalism, we have valuable design and strategic expertise which aided the Defrontera team in creating their brand.
          Read more about Bliss's work for the New Humanitarian
Bliss's Steps to Start-Up Design Success
Design Brand Identity Workshop
The first step was to host a brand identity workshop where Bliss collaborated with DeFrontera on what they needed, wanted and liked. The resulting brief was flexible, but with strong preferences for their brand and new logo:
A minimalistic and modern style

Earth-tone colours

Serif typefaces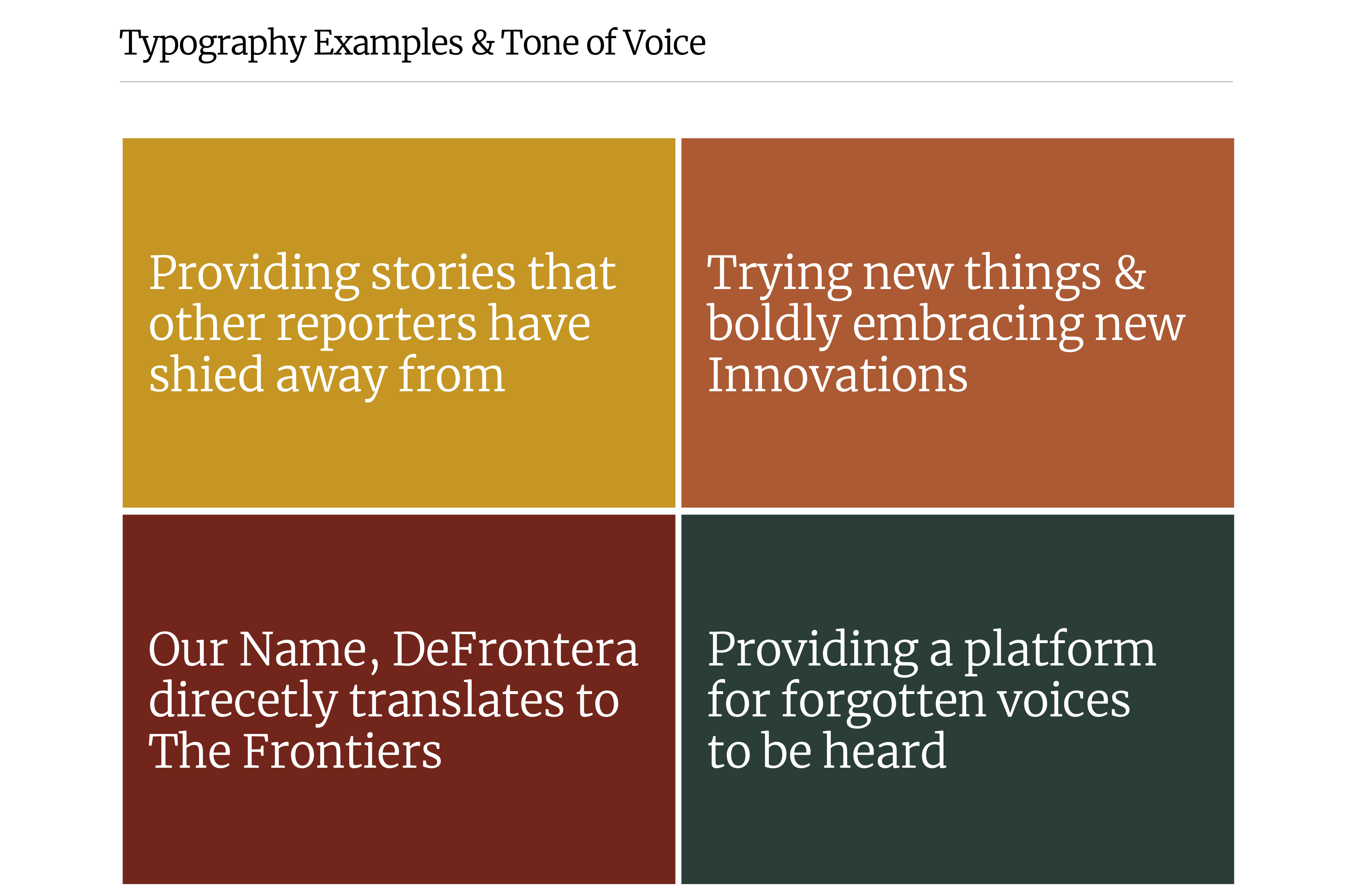 Part of the resulting stylesheet which ticked all the boxes DeFrontera wanted
Creative requirements
At Bliss, we knew that a professional-looking design was crucial for a start-up news organisation.
In this day and age, trustworthiness is paramount for journalism. DeFrontera's branding had to look formal enough to be authoritative, but without looking stuffy.
It also couldn't sacrifice creativity in its design. Attention spans online are notoriously low and so the design had to be eye-catching enough to encourage users to click through and engaging enough to read entire articles.
Accessible designs
The Bliss creative team also prioritised design work that was easy to implement and accessible for DeFrontera to use independently after the project.
Colours

: We chose 3 bold primary brand colours which can be used without the risk of contrasting or accessibility issues. These are supplemented by a softer pallet of 6 earthy tones to provide creative variety.

Typography

: By selecting a Google font as DeFrontera's primary typography, it can be used in any branding material they produce without fear of 

licencing

issues down the line.
The primary and secondary colours chosen for DeFrontera
DeFrontera's Stylesheet
Using our design experience, the brand identity workshop's findings and research into DeFrontera's competitors, we created a stylesheet, including fonts, logos and colours to be the basis of their brand guidelines.
DeFrontera were immediately impressed with the style sheet and happy to expand it to the whole website. 
They felt that their suggestions had been listened to and were at the core of the design

Where Bliss had deviated from their preferences, we gave informed explanations why 

The project was progressing quickly, allowing them to move on to the next stage of website creation
Ultimately, DeFrontera loved how professional and in-depth the stylesheet was. It began to really bring the start-up's vision to life and give the brand a unique identity.
Working with Bliss was great because we wanted an identity that stays true to the old school boots-on-the-ground journalism but has the dynamic energy that journalism needs to be relevant now.

 

The logo is a minimalist Serif font that takes me back to those letterings that Romans and Egyptian carved on walls, like scribes, and this is our commitment to old school journalism. The colour palette is not usual for the "serious" journalism outfits, which speaks of the innovation, experiments and vibrance that DeFrontera stands for.
Verah Okeyo, DeFrontera's Editor at Large
Designing and Building the Non-Profit Website
Following this seamless success, DeFrontera chose Bliss to continue the project by designing and building their website.
Bliss's creative team was able to build off the comprehensive style sheet to create intuitive website designs for desktop, mobile and tablet. The development team is now in the process of building the website in Drupal, to enable easy creation of news articles and moderation of the website.
Similar projects:
We designed and built the website for the Choral Leadership Project, a UK non-profit designed to bring choirs and choral-enthusiasts together.
Bliss has worked closely with The New Humanitarian for years now to build and support their website which shines a light on global humanitarian news