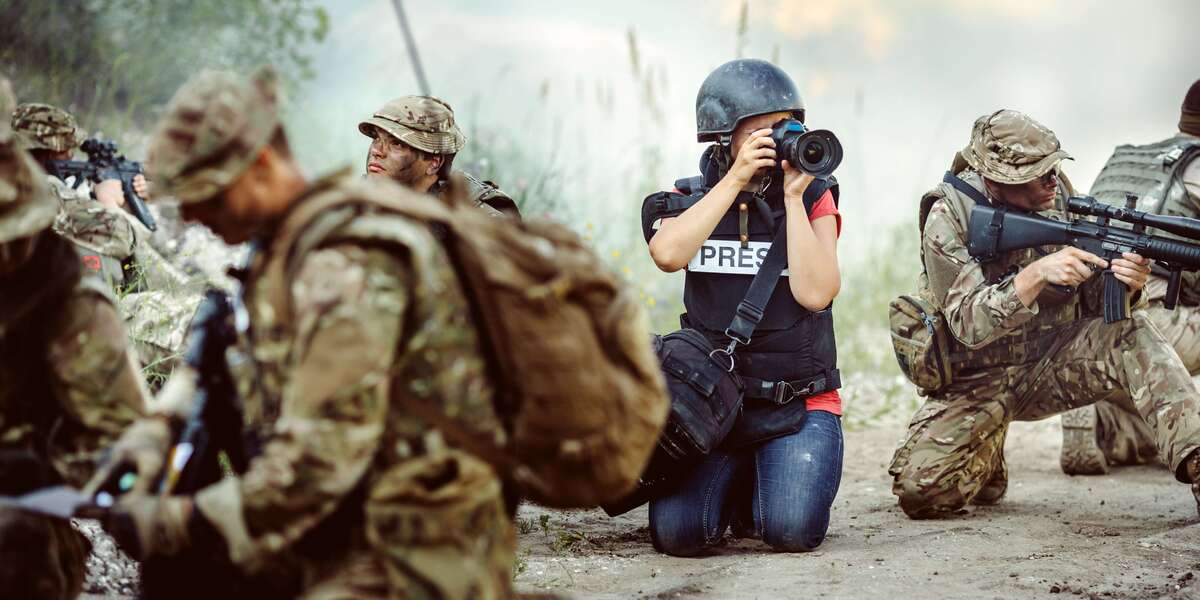 The New Humanitarian: A Non-Profit News Organisation
The New Humanitarian is one of the world's leading providers of humanitarian news and analysis. After 19 years as a project of the United Nations, they established themselves as an independent news organisation and are currently based in Geneva, Switzerland.
As part of this restructuring, The New Humanitarian wanted to create a robust news publishing platform to encourage their growth. They approached Bliss with a single, clear goal: "We need to multiply our readership by 10."
Their existing website boasted a loyal readership and many years of excellent content but the site was heavily outdated. It was slow, inflexible and difficult for both visitors and administrators to use. It also wasn't optimised to display well on mobile devices.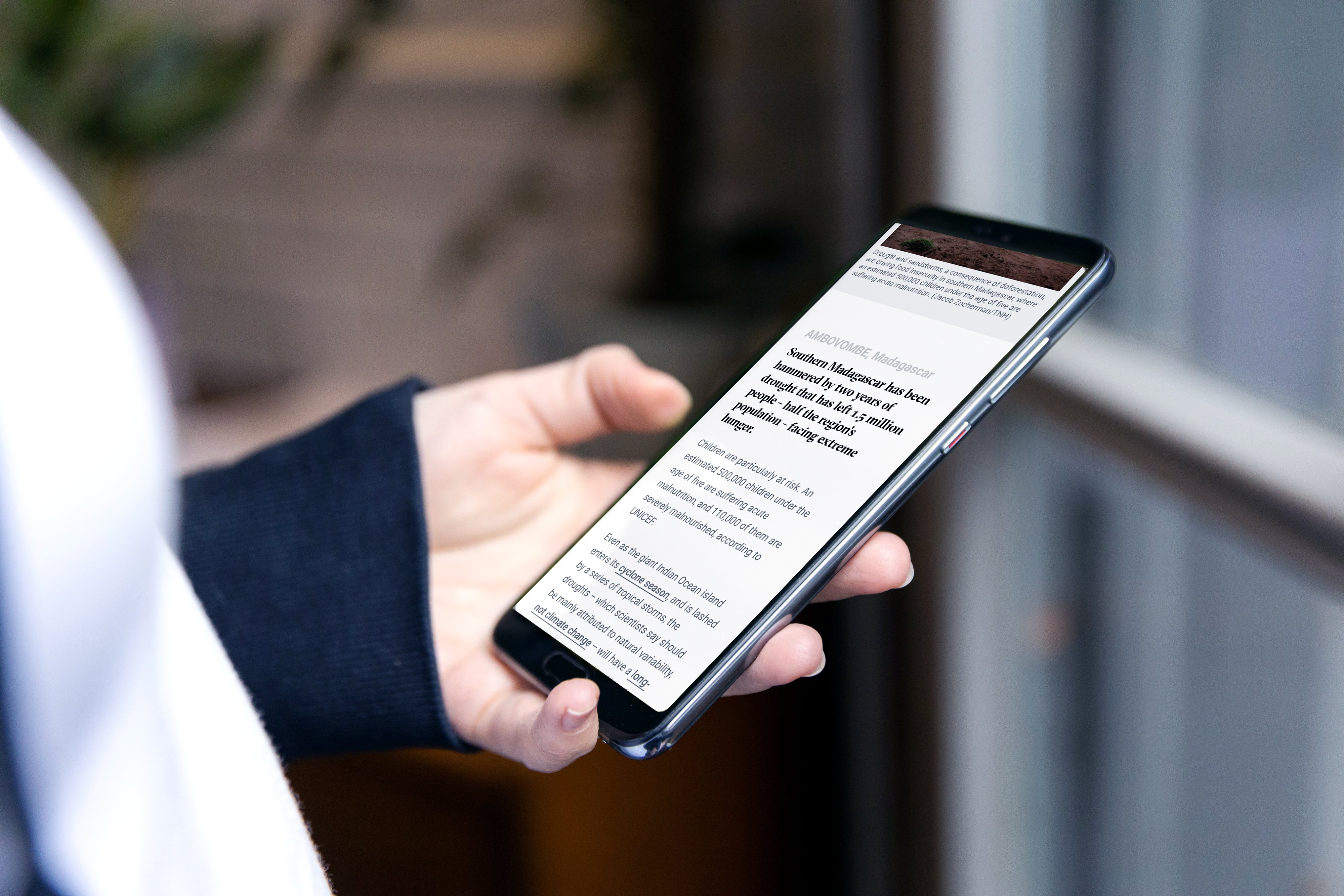 Building a website for a non-profit 
We knew that to achieve such a goal for a website of this scale and importance, the Bliss team would have their work cut out for them.
It was a tall order, but Bliss loves a challenge, especially in the name of a charity or non-profit. 
Assessing website goals and requirements
As well as multiplying readership, the New Humanitarian had several other website goals:
Design a fully responsive user experience
Allow content to be created and managed by administrators around the world
Work in several different languages (including Arabic)
Deliver content to millions of visitors using an endless array of devices
Retaining existing content and the strong organic search traffic that came with it
Work within a firm and immovable budget
These provided a structure of what The New Humanitarian required from their website. Next, we needed to know what the readers of The New Humanitarian wanted.
Non-profit audience analysis
To redevelop The New Humanitarian's website we needed to understand its audience better.
Their ongoing internal research provided us with user surveys and personas. By combining this information with key web metrics, competitive analysis, and stakeholder research, we formed the foundations that we based information architecture and design decisions upon.
With a lot of information about what was needed, the next step was to realise these ideas into the structure of the website. 
Refreshing the website's information architecture
Structuring the information architecture of a site of this size is always a complicated task.
With our prior analysis and The New Humanitarian's organisational objectives in mind; Bliss redesigned the user journey, content categorisation and site map to improve the user's experience on the website.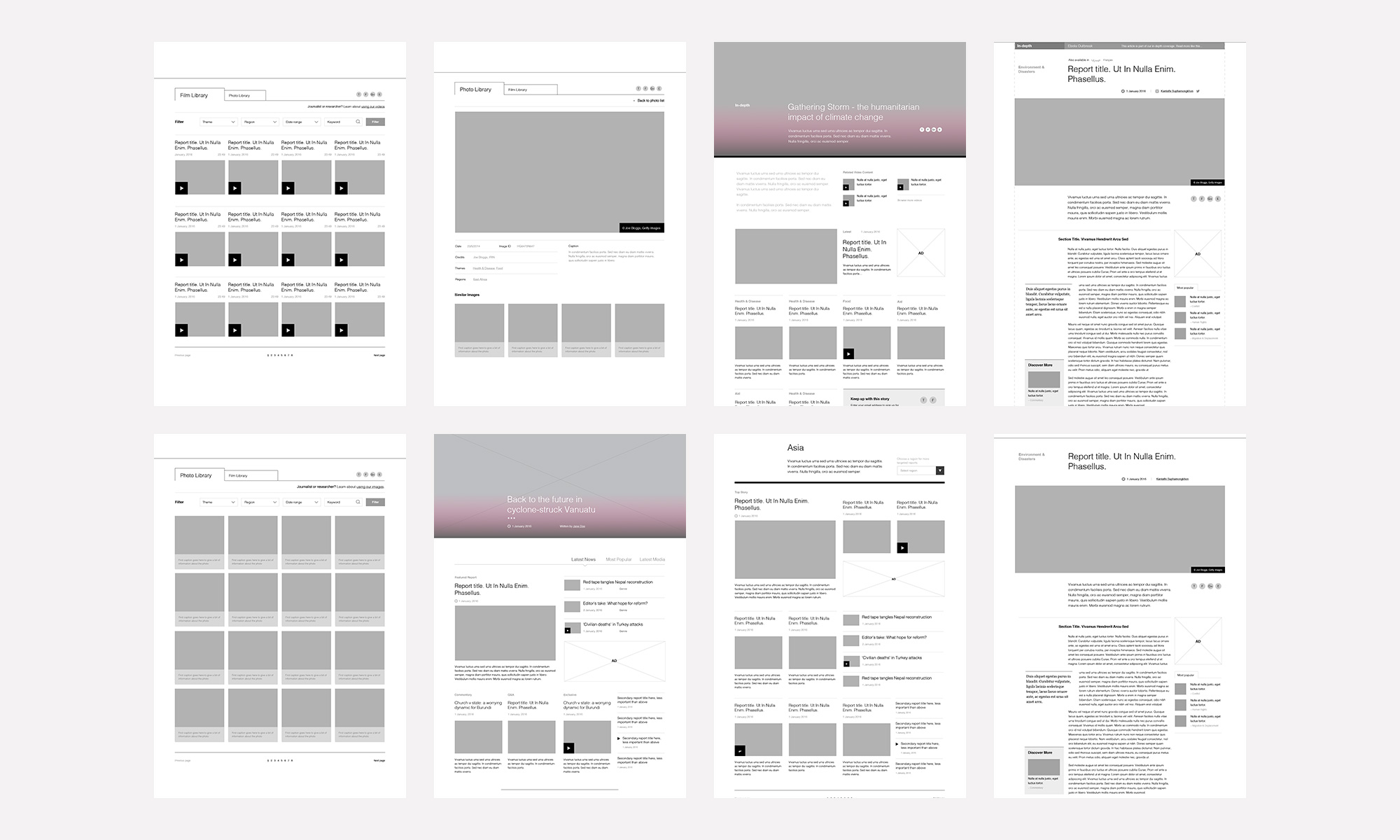 Over the years, the previous information architecture had become bloated and ugly. We studied user patterns, thematic similarities, and article distribution, in order to dramatically simplify the site's taxonomic structures.
Bliss's Creative Director
Creative website design
With a comprehensive information architecture achieved, it was finally time to start designing the website. Including sketches and many rounds of wireframing, the goal was to establish a clear content hierarchy and layout, before getting bogged down in the further complexities of typography, colour, interaction etc.
When it came to the look & feel, consistency and simplicity were key. Long time users of The New Humanitarian needed to feel familiar with the site, and the reader's focus needed to be on the content.
Site speed and performance were a major concern that affected both our visual and technical approach.
We used style tiles to help define the perfect marriage of colour and typography, before investing too heavily in designing full layouts.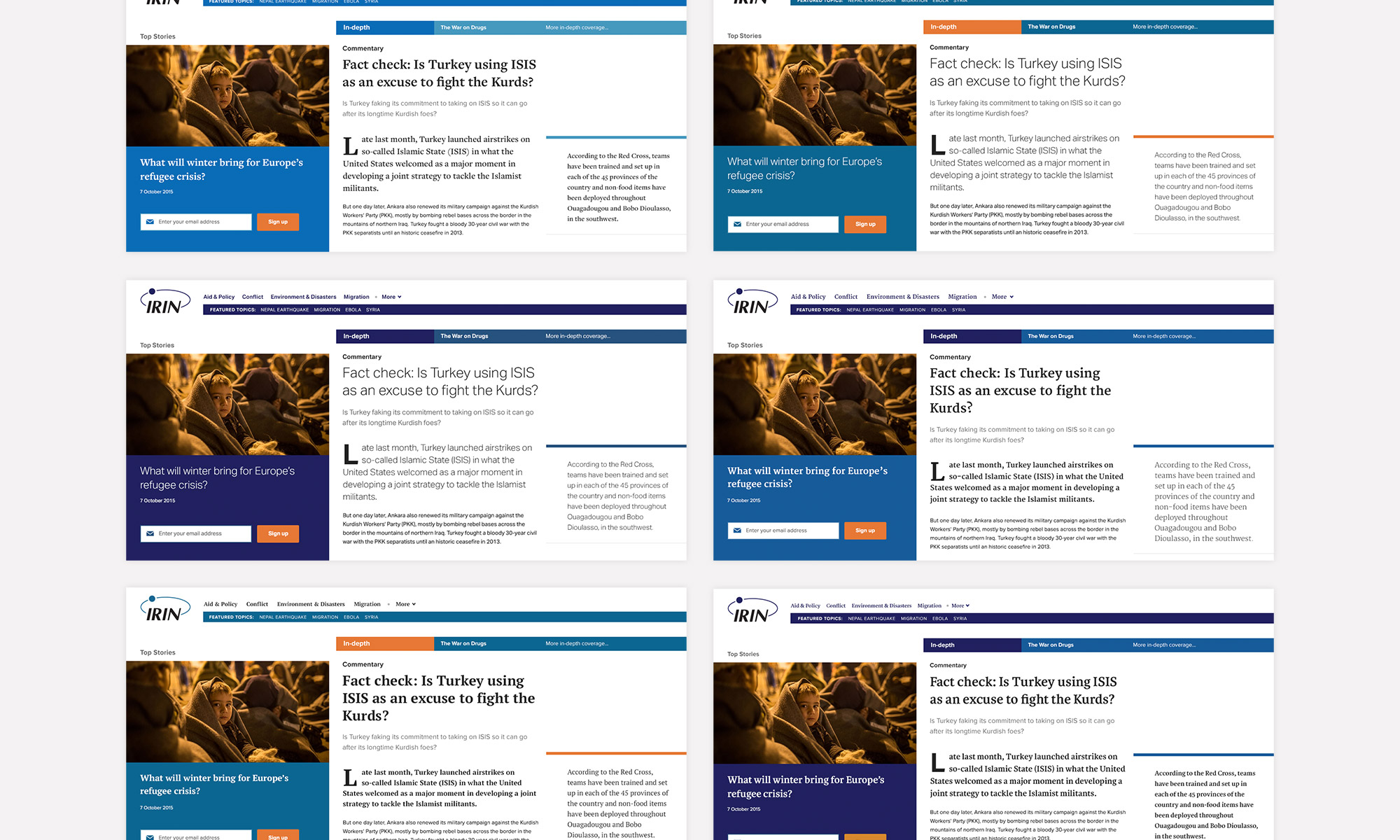 After this step, we brought together the elements of layout, photography and interaction, working in parallel on mobile and desktop variations, to visualise the end product.
Bliss and The New Humanitarian worked closely throughout the design process to ensure that our approach was aligned with functional and commercial considerations.
Drupal platform for the website 
We proposed the use of Drupal, not only because we have extensive experience using it, but because it powers many other successful large-scale news websites, including The Independent and MSNBC.
We were confident that it was robust enough to deal with The New Humanitarian's high traffic levels and handle multi-language content and editorial workflows, whilst having the flexibility to allow the website to continue to grow.
Moving a large amount of content from an antiquated website onto a modern CMS required a complex content migration process. We had to ensure that content styling was optimised for the new platform, as well as dealing with multiple languages and maintaining the content's search engine ranking.
Following the migration of 83,307 pages and 38,061 images, we performed full migration audit to minimise the negative SEO impact of launching the new website.
Website performance is key
The New Humanitarian website serves news to a global audience and currently receives 500,000 page views per month, with our intent being to dramatically increase this. So website performance was paramount.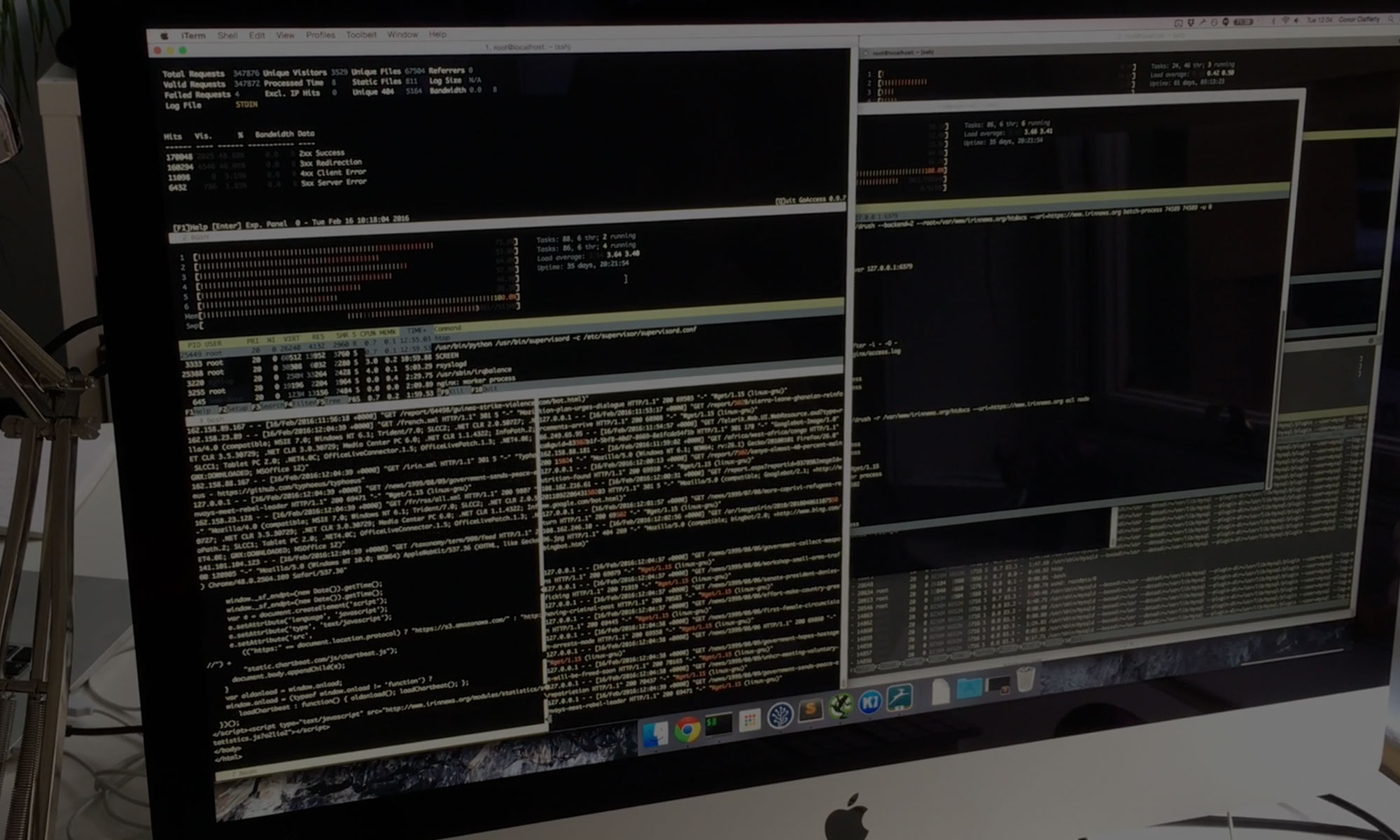 To ensure the new website's stability and rapid load times we mirrored the existing site's traffic, so whilst browsing the old website users were also, without knowing it, testing the new site.
This allowed us to identify crawl errors, 404s and any other performance issues before putting the site live. Our tests performed well and with a few tweaks we were ready to launch with confidence.
The final website design
We delivered a fully responsive website that is highly usable and efficient. Reports, in-depth articles and other content are now better organised and easier to find. Improved navigation and intelligent search allows users to access the right information quickly.
A robust CDN (content delivery network), several levels of intelligent caching, and on-page techniques like lazy loading images, ensure that the site is speedy and stable, regardless of device and internet speed.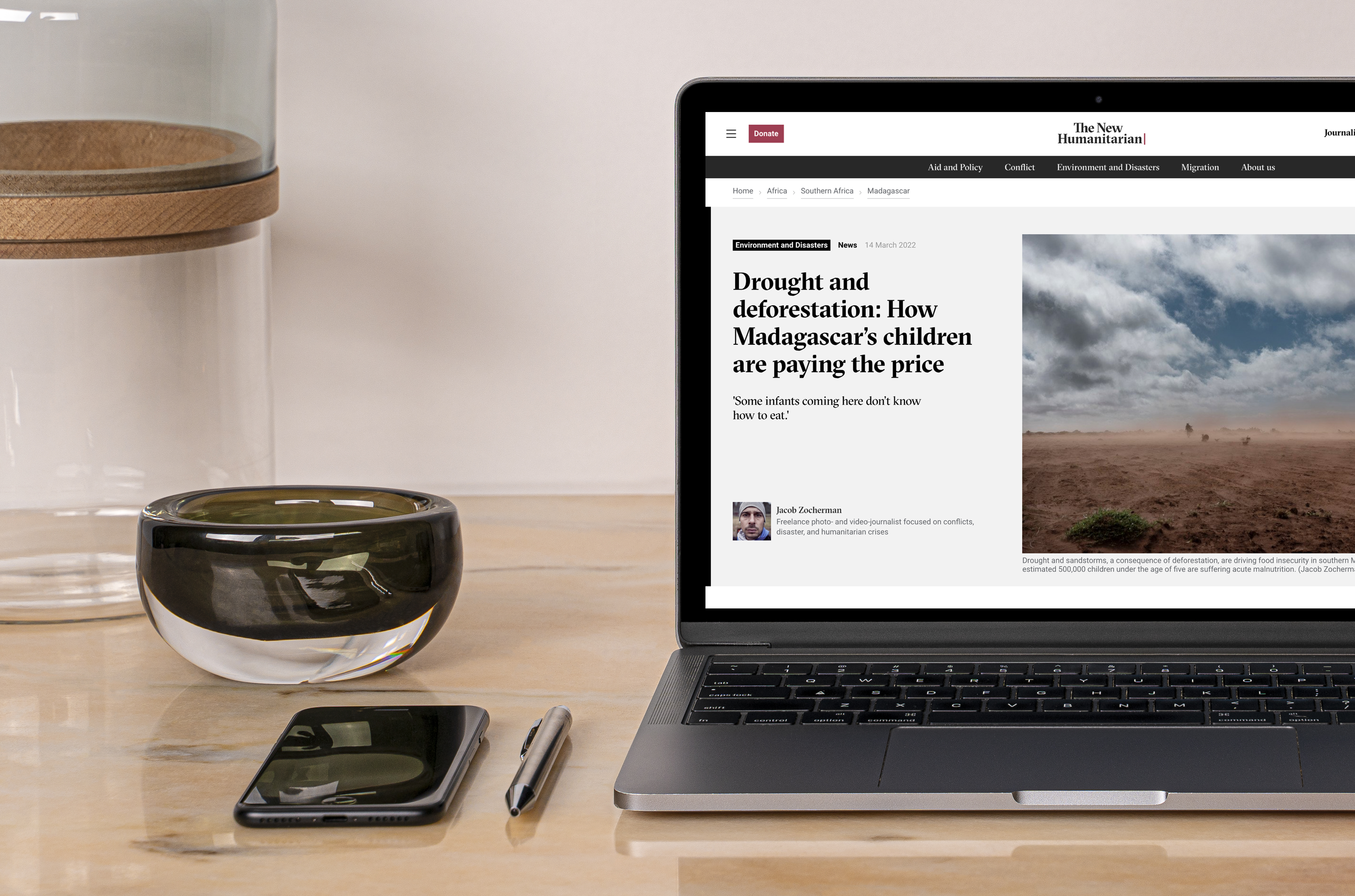 News reports on The New Humanitarian are often the latest event in an ongoing story. The new platform allows The New Humanitarian staff to extend reports by creating timelines to guide readers through the history of the story. Content can currently be published in a number of languages to allow The New Humanitarian to reach a wider global audience.
Of course, there is a lot more to it than that. If you're interested, get in touch with us and we'd love to tell you more.
Making a Difference
After only a month, page views and unique visitors were up 50%, whilst visitor times on the site are up 25%.
Our website provides The New Humanitarian with a strong platform to continue to grow, working towards their goal to multiply their readership by 10. But this is only the beginning, and there is plenty of work to do.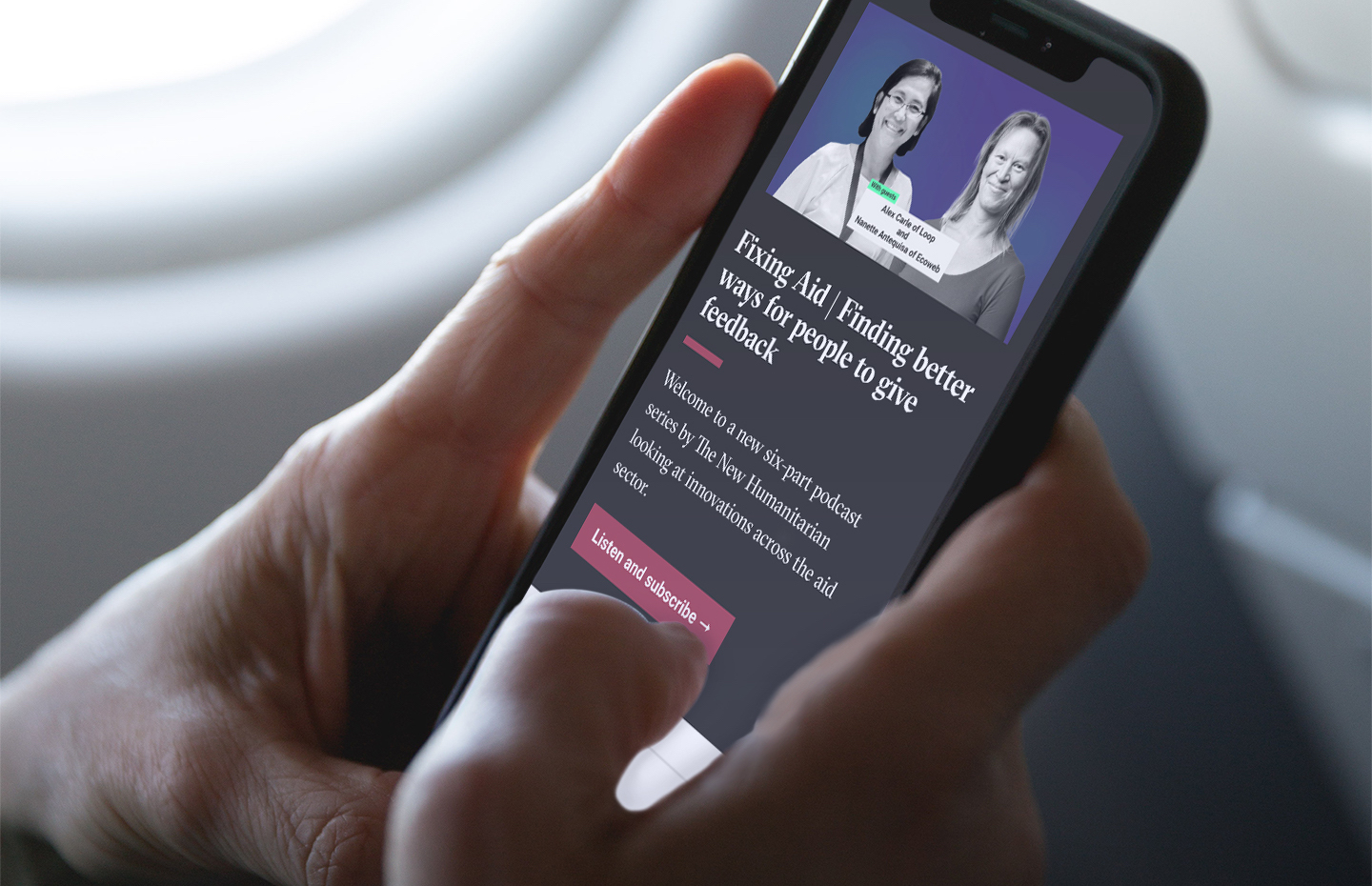 It is important that we continually monitor, test, revise and reassess our approach to help The New Humanitarian grow. We're looking forward to the ongoing challenge.
The website Bliss delivered is faster, simpler, easier to search, and looks great on mobiles and tablets. It allows us to deliver more dynamic and visual content, on a range of platforms, as we continue to develop our storytelling.

We passionately believe that with the right combination of on-the-ground reporting and flexible content delivery, we can make more people care, understand and act on the many crises around the world.
Ben Parker, Chief Executive, The New Humanitarian
Read more case studies
We have experience working with an array of non-profit, membership organisations and charities. From local companies to global enterprises, website builds to marketing projects, we've been there, done that and below is the picture! (Or case study…)
View all case studies