20th July 2018
For several years we've worked with major fashion brand Boohoo.com to create a mobile layer for their hugely successful ecommerce website.
The highstreet in your hands
Boohoo was founded in 2006 and has since exploded online, receiving around 2.3 million active customers to date. With a demographic primarily consisting of fashion-conscious millennials, Boohoo are rapidly becoming one of the top influential brands in fashion today. They design, source markets and sell on-trend clothing at reasonable prices, now shipping worldwide.
The Brief
As an online business, Boohoo are keen to keep up with current trends in the digital world, to ensure their collection is accessible whenever and wherever. In September 2012, they asked BLISS to develop a mobile version of their site in time for the Christmas rush. Recognising this was no easy task in such a short time frame, the team trusted that BLISS had the skill and determination to make it work.Such a tight deadline made it practical to work with a local agency, and BLISS were recommended. We took their entire collection to mobile in less than a month.
Fast forward to 2014 and Boohoo required an array of updates. We collaborated together once more to rejuvenate their mobile offering.
Strategy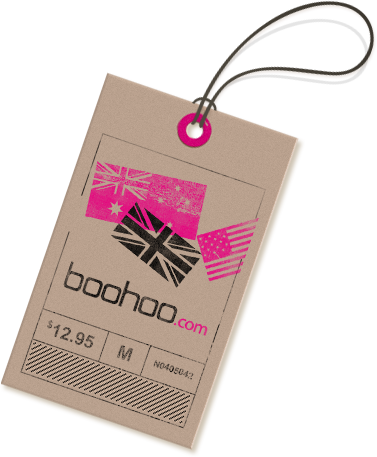 In the earlier iteration, we took into consideration the sheer volume of content we were looking to make accessible, alongside the time we had to build the new site. Boohoo offer a large online selection so it was important that each product was represented accurately, with sufficient images and information for potential buyers.
When designing the site, we took Boohoo's existing brand profile and adapted its key features to fit onto a smaller scale. The amount of data made this a challenging task, alongside the diversity of items and ever updating content. We focused on breaking down content into simplified groups, revising taxonomy structures, to make the site more concise and easier to navigate.
We wanted the mobile site to remain as true to the original as possible to ensure customers would have no reservations about using it. Designed to be used frequently and on the move, it was particularly important to us that customers enjoyed using the mobile site as much as the original.
Technical
So how did we tackle the update? The mobile site exists as an extra CSS layer inserted with JavaScript, due to the nature of the eCommerce backbone the Boohoo site uses.
That means that every change, no matter how small, has be thoroughly considered and applied with plenty of testing. Especially on such a busy site.
Besides technical issues, maintaining a consistent and quality user experience over a multitude of varying small screen browsers was key. This was done by stripping out code and rebuilding slowly, ultimately helping to identify some troublesome issues with older operating devices and browsers. The other main challenge was managing performance with such a heavy JavaScript front-end. As well as some expert optimisation, our front-end devs came to the rescue by removing further non-essential functionality.
Results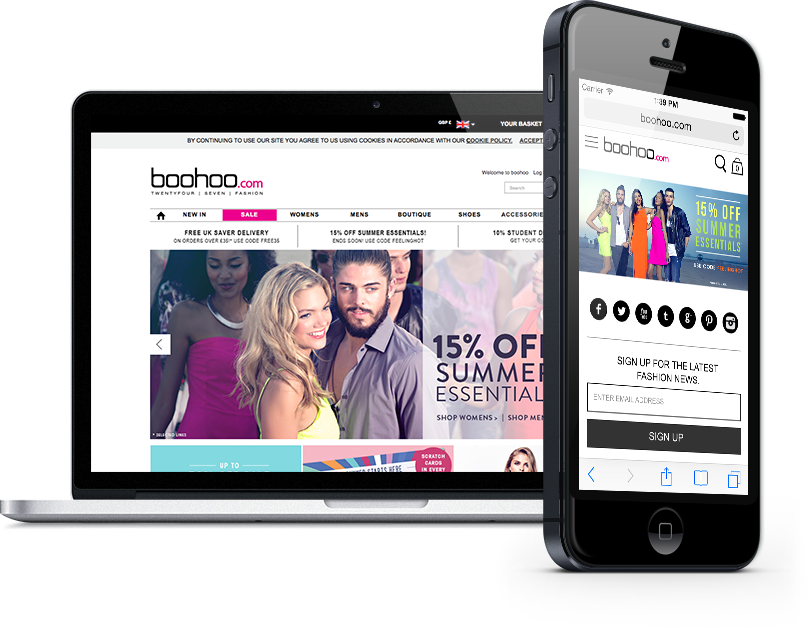 We launched the initial mobile site in good time for Christmas. And have received fantastic feedback from the team at Boohoo.com who were impressed with our fast turnaround, both the first time round and with the 2014 update.
The mobile site maintained the aesthetic of the original but we placed a stronger emphasis on navigation routes, ensuring they were easy to follow, and added smarter filters to make choosing between size/colour/style as easy and fluid as possible.
And of course, as a company who drive all their turnover from online sales, their online paying system needed to be mobile friendly. So we paid particular attention to making this as easy to use, and secure, as possible.
Boohoo.com continue their dominant rise in the world of online retail...