Country House Wedding Venues Case Study
4th August 2016
Country House Wedding Venues needed a new website to reflect their premium brand and show off the fantastic venues they offer.
BLISS delivered a responsive, beautiful and engaging site, which resulted in a 14% enquiry increase.
The Client
Country House Wedding Venues (CHWV) is the UK's most exclusive wedding venue club. Their team of experienced wedding venue specialists find couples the perfect place to say 'I do'. CHWV have a portfolio of 150 hand-picked, stunning venues.
The Challenge
Country House Wedding Venues approached BLISS to create the most beautiful & exciting UK wedding website. It needed to act as a wedding venue directory, but also as a hub for inspiration for brides & grooms to be.
Their existing website was difficult to maintain and looked dated. It wasn't responsive and lacked the functionality required for continued improvement & growth.
CHWV focus on producing high-quality, multimedia content to engage with their target audiences. The new website needed to maximise the impact of this content on all devices.
Additionally, CHWV wanted to improve the website's integration with their CRM system. This would allow them to provide an extremely targeted and tailored customer experience.
The end goals were:
Happy, engaged customers
More enquiries and bookings
Higher value transactions
The Process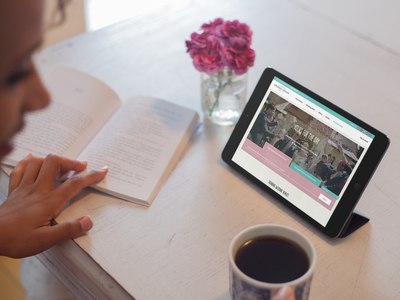 Country House Wedding Venues already had a strong brand image, so this was the starting point for designing their new website.
We performed an extensive design process working closely with the client. By listening to their extensive feedback, we were able to continually improve the website's design with each iteration.
UX Considerations
A significant amount of thought went into the UX of the new website. This included planning out user journeys, considering the website structure and CHWV's sales funnel.
Wireframing
The wireframing process was key to the success of this project. We explored many concepts which led to the mood board feature that is prominent on the new website.
Building
The website was built on the Drupal platform, our bread and butter, so the development process went smoothly. Where possible, we built the site in parallel with the design work. This allowed us to complete the project in three months.
The Solution
The new site combines good looks with a refined user experience and powerful functionality. It engages users through multimedia content, encourages enquiries, and will allow CHWV's business to continue to flourish.
Key website features include:
Filterable mood board to provide potential brides with inspiration.
Natural language search allowing users to easily find content.
Wedding specialist feature - highlighting the human element of CHWV service.
Targeted customer experience through tracking website interactions, and integration with Microsoft Dynamics CRM.
Integration with Buffer for one-click sharing of content through CHWV's social media channels.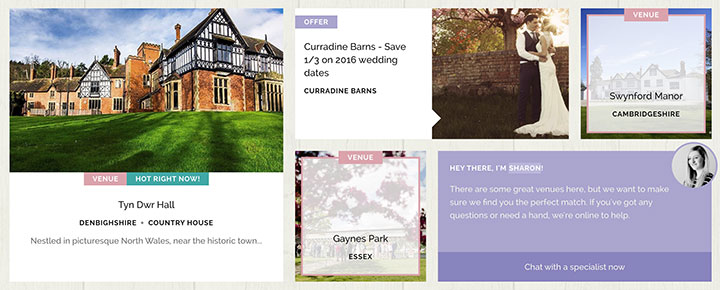 The site was designed to streamline content for users on mobile devices. Administrators can also add mobile specific content easily. The result - a quick and functionable mobile website that maintains key features, and look & feel.
The Results
We didn't want to just match the brief. We wanted to make the UK's best wedding website.

Nathan, Creative Director
The new CHWV website has performed well since it launched:
14% increase in enquiries year on year
13% increase in user average time on page year on year
3% decrease in bounce rate page year on year
Visually, the new website reflects the premium nature of Country House Wedding Venues' brand and the venues listed on the site. It shows off CHWV's high-quality multimedia assets, making the site vibrant and exciting to navigate. The website improved UX means the site is a pleasure for couples to browse, collate inspiration for their wedding, and find the perfect venue for their big day.