20th July 2018
RRG are one of the biggest and most successful dealer groups in the North, selling a wide range of new and used cars across the region, including, Toyota, Peugeot, Kia, Suzuki, Mazda and Lexus models. Committed to complete customer satisfaction, BLISS instantly identified with their desire to maintain solid relationships with customers, continuing long after the initial sale.
Thanks to this, they have developed a strong network of clients and a loyal fanbase, allowing the business to grow even in times of economic crisis. Today, they are the largest Toyota car dealership in Europe, and their future looks bright.
The Brief
Having worked with RRG for a good few years, BLISS have developed a fantastic relationship with the marketing team. As a business, they are keen to keep up with current trends in the market, aiming to branch out with mobile applications and campaign microsites.
They have maintained a strong marketing focus throughout, resulting in consistent and impressive results that have ensured them a fantastic return on investment year after year.
Whilst managing their main website over the past few years, RRG have also approached BLISS with the task of creating a microsite devoted exclusively to new models, alongside two mobile applications looking to further their existing services.
S
trategy
RRG enjoy all things digital, meaning they are responsive and appreciative to turns in the market; an ideal partnership for a digital agency. When designing the New Cars microsite, we focused on customers needs, tailoring the approach to conversions besides indulgent showcasing.
Featuring an online test drive booking form, countdown to new launches, video content and the ability to post reviews, the site was designed to cater for those with an existing knowledge of cars, as well as first time buyers.

So far we've launched two mobile apps—iClaimit and RRG Used Cars, both designed to work individually but aesthetically tied into the RRG online brand.
As a trusted company, RRG are lucky to be the first port of call for many when considering buying a car. iClaimit offers simple mileage and expenses tracking for your phone, keeping track of receipts and easily exporting data. The RRG Used Cars app lists a selection of vehicles approved by top mechanics. The app aims to cut out the middleman, putting you in direct contact with RRG.
Execution
We unveiled the new micro-site in May, receiving fantastic feedback from RRG, and their customers. The site placed a strong emphasis on photography, using large, stylish images to showcase the cars in their best light. Passionate about ensuring an exceptional level of quality from every vehicle sold, the micro-site aimed to reflect RRG's dedication to its customers, as well as potential customers. Alongside the mobile applications, the additions to the brand aimed to fit easily alongside their existing identity.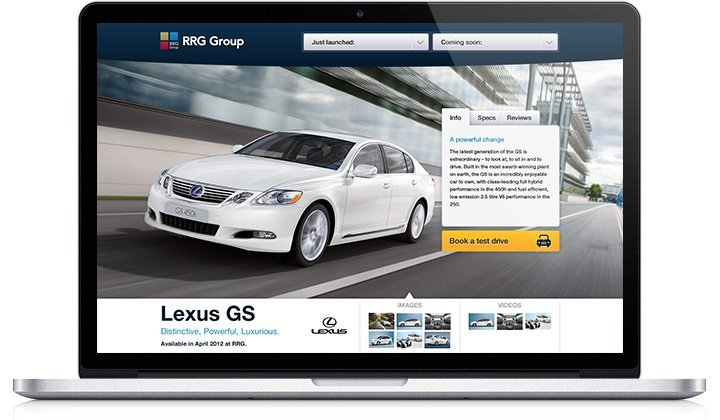 For the mobile apps we exploited handy features such as push notifications and geotargeting. You can book a test drive at your local RRG branch directly through the Used Car app, allowing you to browse and make direct decisions on the go. 
iClaimit GPS tracking records your mileage at the click of a button meaning you don't have to reset the Odometer every journey, leaving the app to take care of all the maths and logging for you. You also have the option to save searches and access results anytime; it will naturally identify new cars matching your criteria. You can build a showroom to help shortlist items that you just can't decide between.
We're delighted with the site. BLISS really understood what we wanted to achieve—to show off the cars in their best light. It's also a very user-friendly interface and makes it easy for our customers to navigate and book a test drive in the model that interests them. We're looking forward to working with BLISS again.
R

RG Group
Results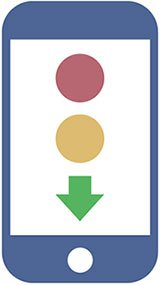 As a result of the microsite and both apps, RRG have further fortified their online identity. A 20% increase in monthly digital marketing spend has provided a ROI of over 400%, as well as seeing organic traffic rise by 25%.
Within a few weeks of launching, Apple made the iClaimit iPhone app the number 1 'What's Hot' finance app. RRG now have an estimated annual revenue from site conversions alone of over £600,000.
Bounce rates have reduced and the quality of traffic has increased. There has been approximately 6,500 app downloads in 6 months and around 750 visitors to the mobile site each month.
It's been great to work with RRG. Cars are intrinsically beautiful objects - with that in mind we've created a very focused, simple and elegant site to really let the cars speak for themselves.
Jon Stutfield, BLISS