24th July 2018
Watson Moore are a boutique recruitment agency that specialise in finance roles. They've grown rapidly in a short period of time by building strong relationships with some of the most successful businesses in the UK. They approached BLISS because they wanted a web presence that could grow with them.
THE BRIEF
Watson Moore's aim was to improve usability, functionality and brand communication for both potential clients and candidates in the job market. Their existing solution didn't have the flexibility to grow with them, so we were tasked to design and build a sustainable platform that would serve the Watson Moore of tomorrow.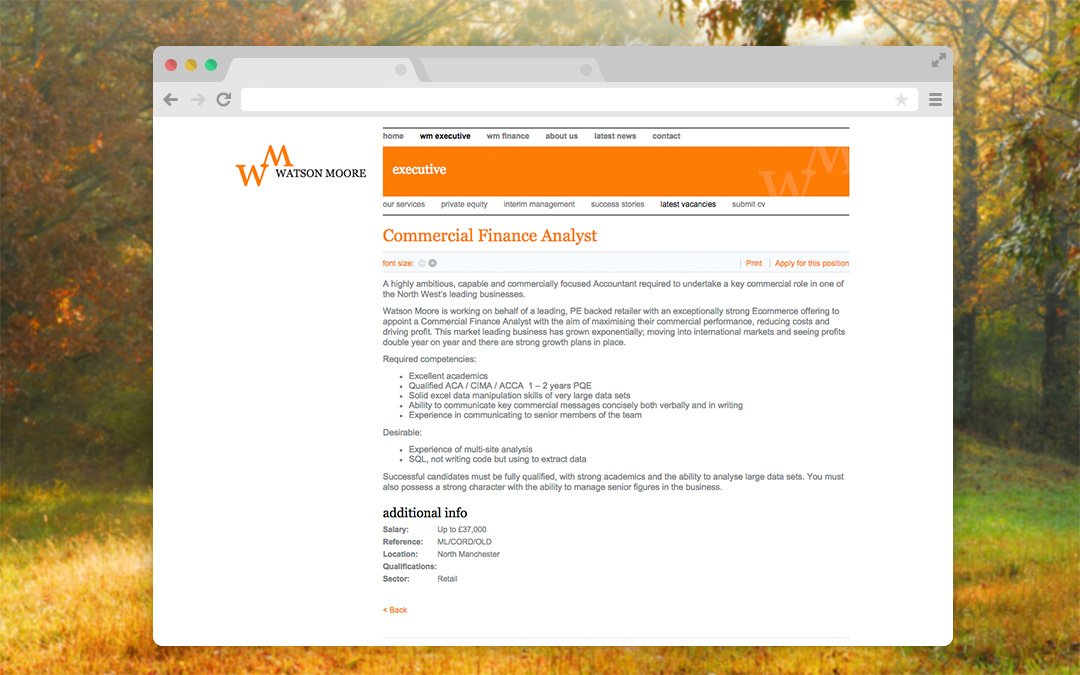 OUR APPROACH
Besides doing our best to achieve the client's objectives, we also designed and built the architecture of our solution in an extremely modular fashion that would allow us to easily modify and reuse elements in future.
We worked very quickly, despite many phases of user experience design, prototyping and high fidelity design. Our recently refined agile approach enabled the project to flow seemlessly from conception to launch.
Distilling the Brand
Watson Moore are different from most recruitment agencies. As they've grown they've maintained the personal boutique approach that set them apart in the first place. It was our job to ensure that this message came across in our work.
Human, Specialist, Committed
Watson Moore don't see candidates as another row in a database, instead focusing on building personal relationships. We brought through this personality by featuring consultants on vacancies, and providing every team member with biography pages.
Watson Moore focus on financial sector recruitment, and they aim to be the best in that area. It was important that we performed targeted user research in order to build the correct personas that would influence our design approach and tone of voice.
Watson Moore like to build long-term relationships with their candidates, just like we do with our clients! We proposed a career planner tool that would allow them to suggest new positions in line with candidates' projected career plans.
Watson Moore have built for themselves a unique identity in a competitive industry. Their genuine and approachable attitude is not something typically associated with finance recruitment. This gave us something to work with.

Nathan, Creative Director
Design Approach
There were three main design challenges that we faced: build an easy to use interface for the team to add and manage vacancies; clearly convey the Watson Moore identity; and provide a well defined user experience that works well on all devices.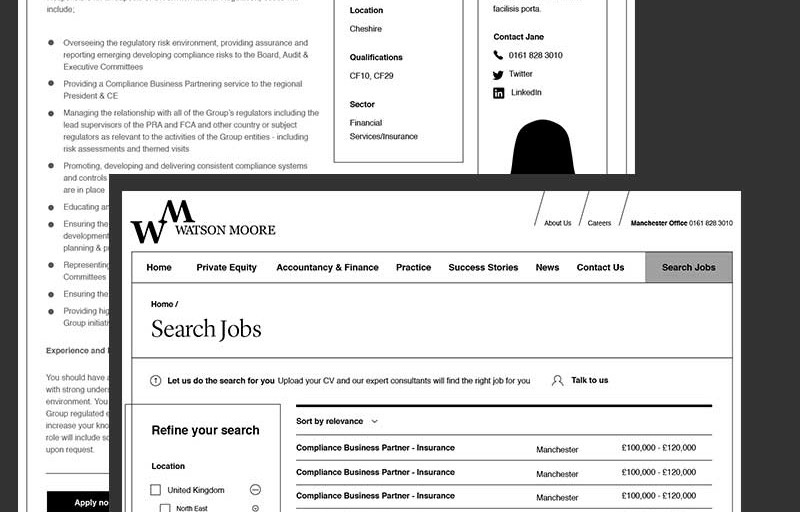 We worked closely with the team at Watson Moore through the planning, wireframing, prototyping and several iterations of the high fidelity design phase in order to achieve the ideal solution they were looking for. This was an insightful process for both parties, and close communication was key to ensure we were always heading in the right direction.
Establishing long-term relationships
We developed an innovative concept that would allow people track their career paths over the course of the relationship with Watson Moore. The tool would generate a predicted future journey based on existing and previous roles, and even suggest current vacancies that might further that progression.
Unfortunately the concept wasn't quite appropriate for the moment. But there are elements of the idea that have fed into the site, such as notifications of upcoming jobs based on user preferences such as location and salary.
Technical
Every project brings its technical challenges, no matter how seemingly trivial. As Watson Moore have grown, so has the ever fluctuating number of vacancies they need to fill. And the future shows no signs of this slowing down. So it was essential that we provided a tidy and flexible content management system that made it easy to add and edit vacancies, and disable them once they'd been filled.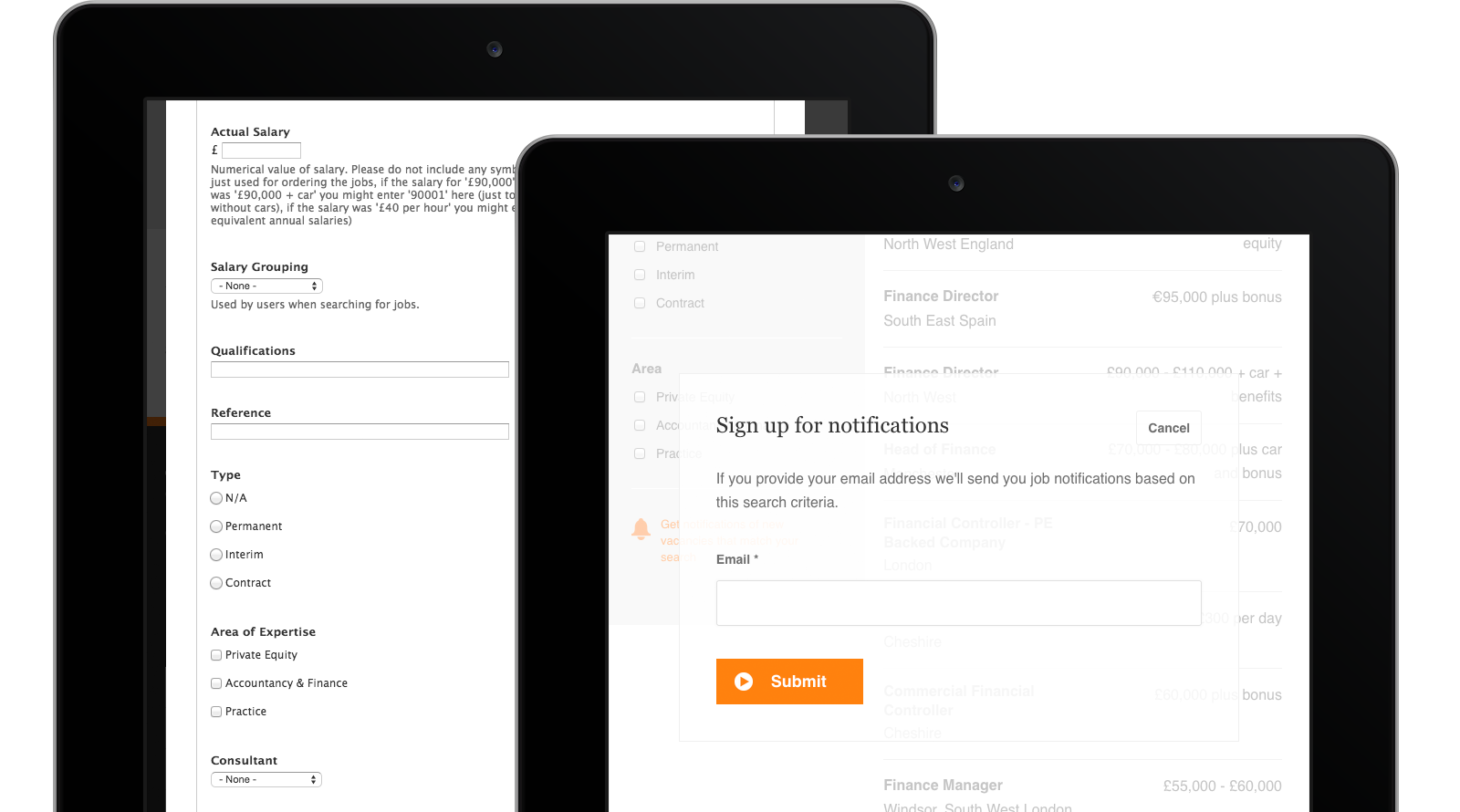 Notifications were also a desirable feature, allowing applicants to set up email notifications for new vacancies based on specific criteria such as location, salary range and specialism. We built a custom notification module that handled this, and ensured it worked seamlessly on all devices.
The Watson Moore project served as the perfect hotbed for us to trial the new Agile production processes we'd been working through. The project went extremely smoothly. It was on time, on budget, and with no hiccups at launch. It shows that we are always trying to improve ourselves in every way.

Adam, Developer
The End Result
The Watson Moore project gave BLISS the opportunity to extend our experience into another new field, and bring a splash of creative flair to an industry that often lacks it.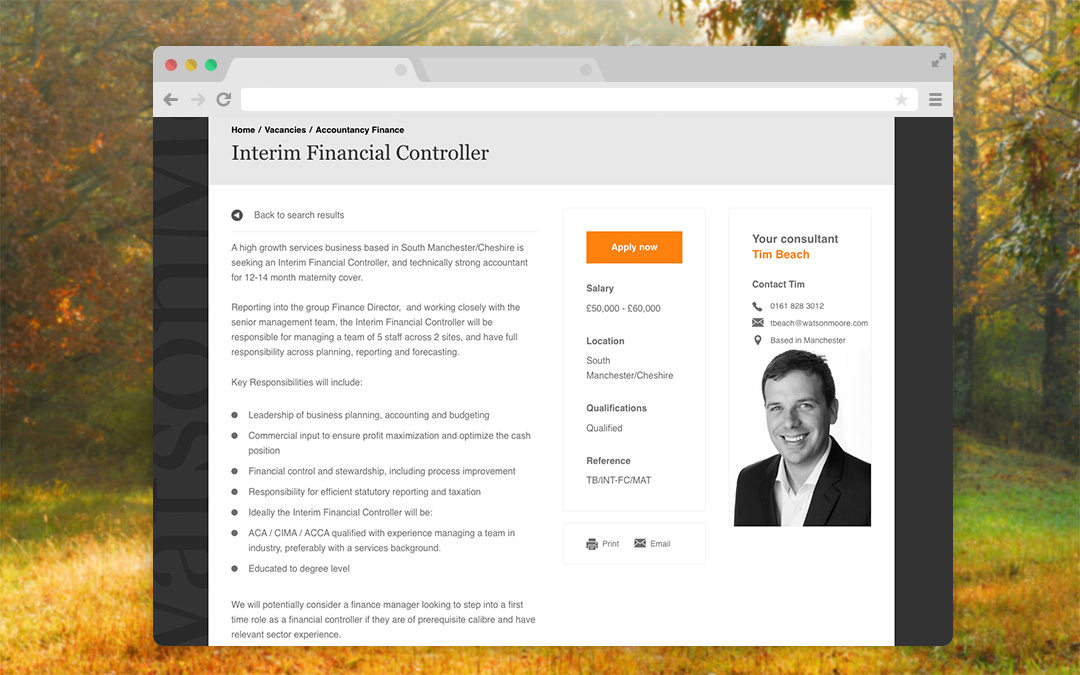 We've built a sturdy responsive website that is designed to grow and evolve with the business it represents.
The initial response has been fantastic, feedback from everyone who comes into contact with the site is extremely positive. Enquiries are on the rise and so is productivity.
Derrick Watson
Founder, Watson Moore